Transformer issue 25. I am really excited to dive into this book and learn how the G.I. Joe and the Transformers cross over is going to impact this next Transformers story. Also, this book has, what I think, is just a really great cover. So lets start by checking it out!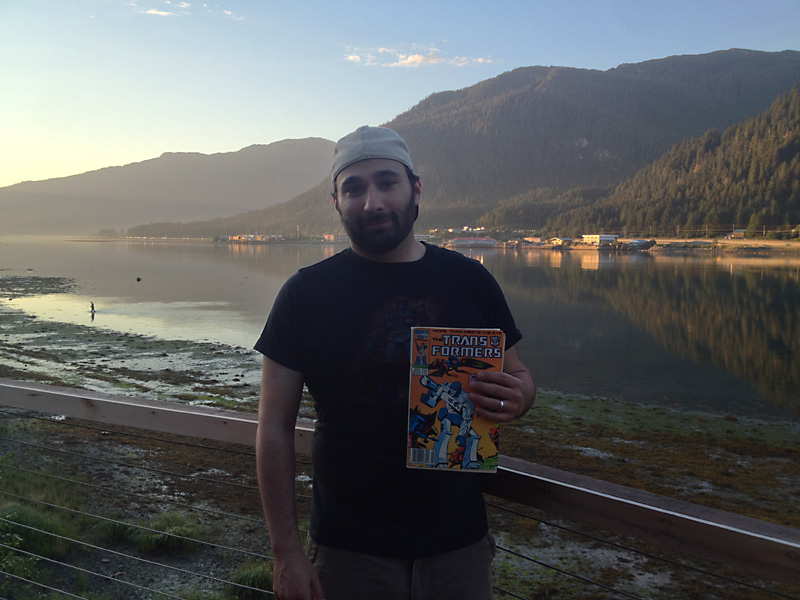 The cover for Transformers issue 25 'Gone but Not Forgotten!' Has a battle damaged Megatron front and center looking like he wont make it and out numbered by the first appearance of the Predacons. The predicons are a group of Decepticons who transform into animals. They are known as Razorclaw, Divebomb, Headstrong, Rampage and Tantrum. Together they combine to form the mighty Predaking! The background of the cover is a gradient of bright orange at the top and turns to yellow at the bottom. The Transformers logo is in white this time and a box next to the beaten Megaton reads, 'MEGATRON'S LAST STAND!'. I have learned early on not to trust these covers. Thought they are cool to look at, they are often misleading.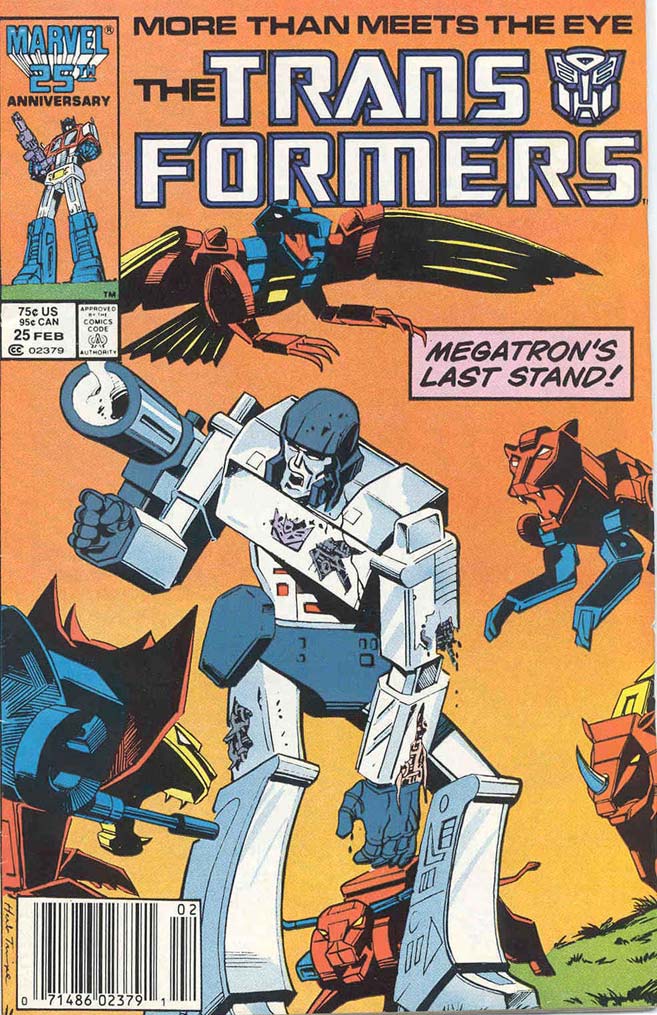 We start off issue 25 with the United States army preparing to attack the Decepticon base. At the same time the Decepticons are currently planning to abandon their base for a new one in the Florida Keys. They feel that this location is a place where they can make better use of the stolen hydrothermocline to generate their energy needs.
Megatron's head is not int he game. He is very upset over the death of Optimus Prime and is unable to accept that his equal on the battle field is dead. A problem that all but drives him insane.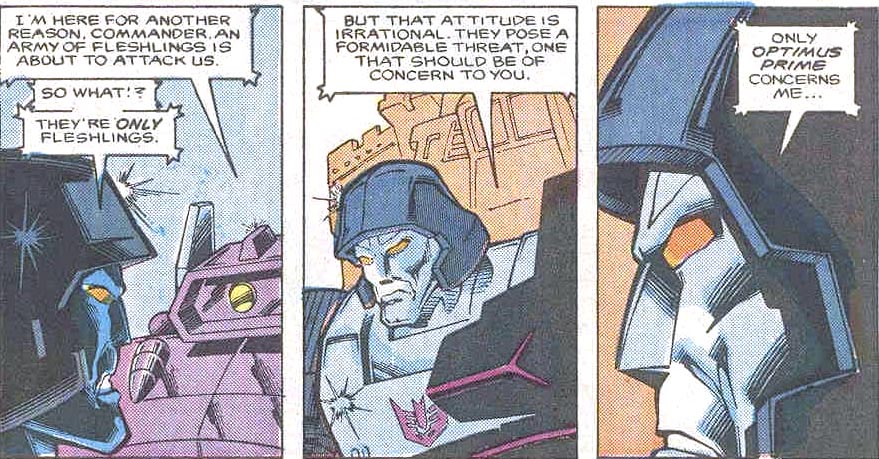 As the Decepticons leave their old base for a new one, Shockwave and Soundwave stay behind to inform the Predacons of their mission. Their mission to destroy Megatron. An act that only further confuses Megatron as the Predacons have been outfitted with Autobot symbols to make him think they where sent by Optimus Prime.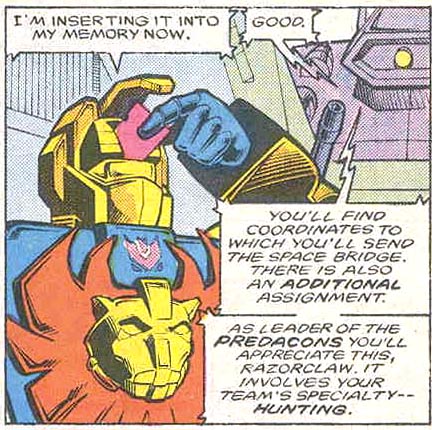 The predicons go out on their mission, locate Megatron and engage him in battle. Even thought Megatron is out numbered, he still manages to fight off them off. In a last attempt the Predacons combine to form Predaking. Megatron finishes the battle with a solid blast from his fusion cannon.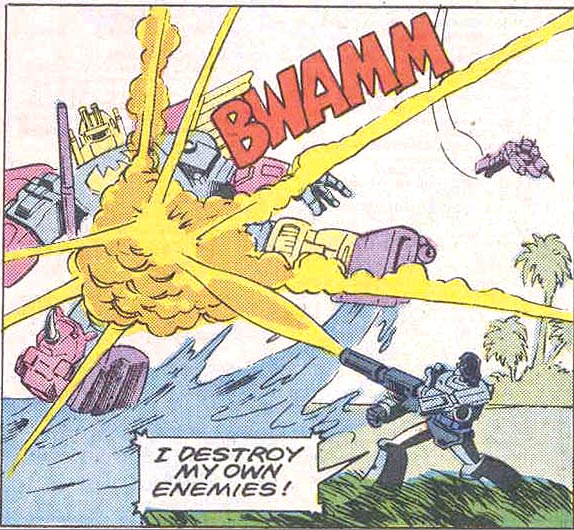 Eventually the Decepticons all arrive at the new base. A laser disk is located inside of Predaking and is played back for Megatron. The disk reveals Shockwave's plan to kill Megatron.
As Megatron prepairs to destroy Shockwave, Shockwave revels that he recorded portions of his personality on the disk he gave the Predacons. This is like a revelation to Magatron as he thinks back to Optimus Prime's death. Megatron knows that Optimus Prime's personality had been saved on a computer disk, and this pretty much drives him mad that he blows up the space bridge with himself on it.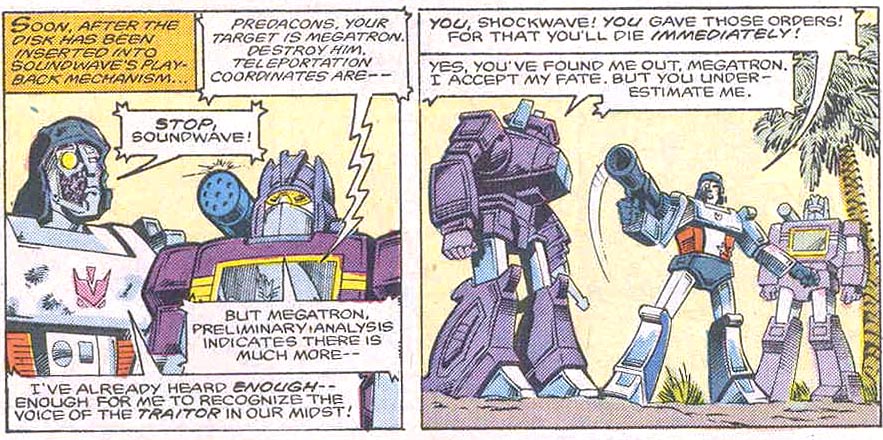 Shockwave revels that it was not he himself who destroyed Megatron, but "a memory did!"
My Thoughts On This Issue
What really stuck out to me about this issue. What seemed to be said between the lines is that, without evil, you can not have good. Megatron needs Optimus Prime as much as the Joker needs Batman or as much as Lex Luthor needs Superman. Without the other, neither can exists with any true purpose.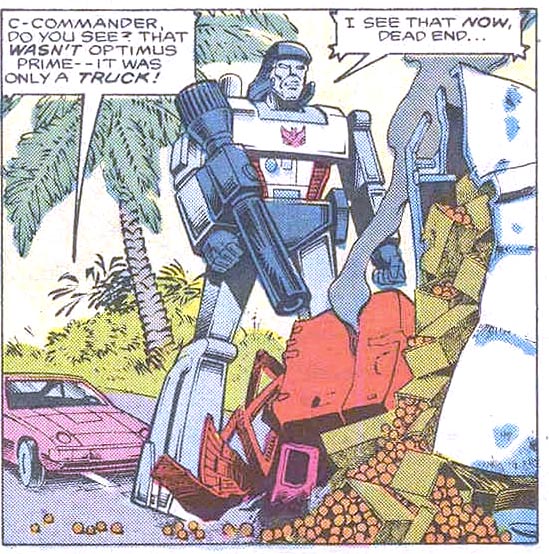 Also, the Predicons just look like such badasses. Really well drawn.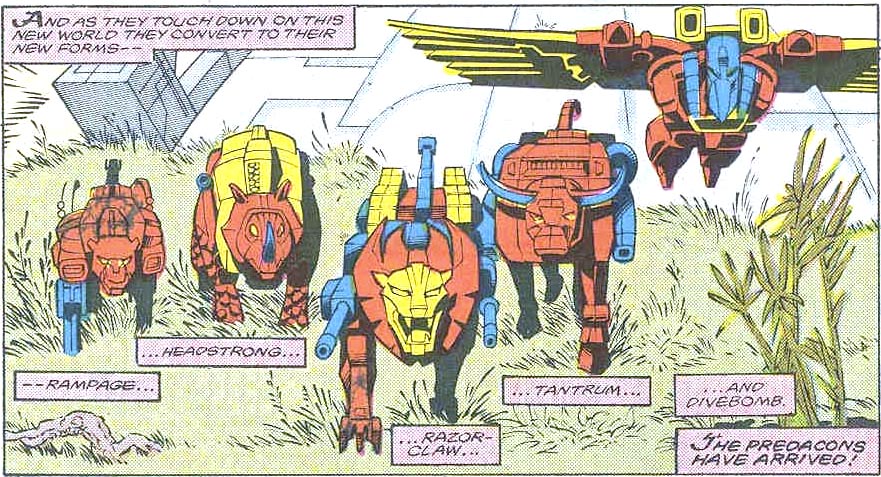 Transmission Letters This Issue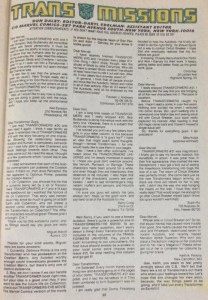 Dear Marvel,
I just read TRANSFORMERS #20 and it was fantastic! bob Budiansky did incredible things with Skids' personality. It must be weird to lack the ability to enjoy the wonders of nature that we humans take for granted during everyday life. I also liked the relationship between Skids and Charlene. I wonder what I'd do if i ever ran into a Transformers. I guess I'd be pretty scared, but open-minded like Charlene was.
I'd also like to say that the artwork was great (as usual!). Herb Trimpe really did a good job filling in for Don Perlin on this issue. I really enjoyed his work on the covers of all of your TRANSFORMERS and it was good to see a full issues from him.
Well, all i would like to say now is that you guys are doing a great job with the book and I hope you keep up the phenomenal work!
Neil Esiason
Philadelphia, PA
Dear Transformers Guys,
I just read TRANSFORMERS #20 and then read it again. I think it was terrific as usual. It reminded me of TRANSFORMERS #16 with the story focusing on one character showing the relationship between Autobot and human in completely extraordinary! I was fully able to see Charlene's and Skids' feelings towards each other. They really came out! As I read the issue, I thought up a few questions which I would like to see answered:
1. I read somewhere that each of the Autobot commanders can possess the Creation Martix. If that's so, Then does Perceptor, the heir apparent to Optimus Prime, possess the Creation Martix?
2. On Cybertron, you showed the life that is currently being led by a lot of Transformers. TRANSFORMERS #17 and #18 kept me spellbound as I watched the horrors of life on Cybertron. That story was tremendous! Hey, since so much is going on at both Earth and Cybertron, why not create a second comic showing the adventures of the Transformers on Cybertron? The different characters would be great! Please give it a thought, O.K.?
Thank you for this wonderful comic, and as Shingo would say, you guys are really cool!
Miguel Marolt
Aurora, CO
Thanks for your kind words, Miguel. here are some answers:
1. Currently, Optimus Prime is the only Transformer who has possession of the Creation Matrix. any Autobot worthy enough could theoretically possess the Creation Matrix, but there's only one of them in existence.
2. Boy, we don't know if we can handle another TRANSFORMER book right now, but your idea is a good one! Hey, if you want to see the future life on Cybertron, check out TRANSFORMERS THE MOVIE. The Marvel Comics version of the movie is drawn by the regular team of Don Perlin andAkin + Garvey, so you know it looks good!
Dear Marvel,
I have recently finished TRANSFORMERS #20 and I enjoyed every page of it. One thing I didn't enjoy, thought, was the abuse of Skids by Jake Dalrymple. Why did he have to smash Skids' window? He should at least have tried to talk it out with him. After all, it was Jake's fault anyway, wasn't it?
In general, I think that all people should act more like the Autobots: heroic and noble in all of their actions. After all, if it weren't for the Autobots, we'd all be enslaved by the Decepticons today!
Reuben J. Andrews
Edmonton, Ont
Dear Don,
I am a long time reader of TRANSFORMERS and I really enjoyed #20. Bob Budiansky is doing marvelous work with the story line. However, there is a subject that could use improvement.
I've noticed you print very few letters from girls in your letter column. Is this because TRANSFORMERS is "a guy's toy?" I have an idea that might spark some thoughts, though – female Transformers. I, for one, would really like to see them in your pages.
Also, I have a few other comments. I've heard about the TRANSFORMERS UNIVERSE and I'm deeply interested in seeing it. I hope you guys don't over look anyone, like Venom, ransack, or Barrage. these characters have been around for a while and even thought they are Insecticons, they deserved to be included, I also hope that none of the characters' powers are over looked. I want to see Windcharger's magnetism, Huffer's arm sensors, and Houd's holograms.
I'm sure you guys will satisfy me (you always do!). Keep up the good work, and say hello to all the Autobos for me.
Barry Craig
Midland, TX
Well Barry, if you want to see a female Autobot, there's quite a powerful one in TRANSFORMERS THE MOVIE! To answer your other question, don't worry about a Thing! Every Transformers will be included in the volumes of the TRANSFORMERS UNIVERSE. Hey, you're in luck! according to our calculations, the first issue should already be available in your local comic store (maybe even issue #2. So stop reading this column and go get it!
Dear Transformers,
I'm flattered! Every month there's something new and exciting going on in the pages of your comic. TRANSFORMERS #21 was great, and it had the Aerialbots in it! They even combined to form Superion! I was impressed.
I am really glad that Donny Finkleberg decided to help the Autobots. He finally decided to do the right thing. He should figure out a way to control Circuit Breaker. I hope that she eventually realizes that the Autobots are good!
In closing, i'd really like to thank Don Perlin and Akin + Garvey for their work. It keeps getting better and better. Keep up the great work, guys.
Chris Key
Highland Spring, VA
Dear Marvel,
I really enjoyed TRANSFORMERS #21. I especially like the way that you are bringing all the caracters into it. The pace is excellent.
Before Transformers caught my eye, I hadn't read a comic in over five years. Nothing ever excited me when I ventured into comic stores. But, upon walking into a newsstand one fateful day and seeing issue #9 with Circuit Breaker, you book really captured my interest. After reading it, that old magic came back and I haven't missed a single issue yet!
So, thanks for everything guys. I appreciate it!
Mike Kulak
Dear Marvel,
TRANSFORMERS #21 was magnificent. I finally got to see my favorite Autobot, the Aerialbotsm in action. It was great how, in their first appearance, they trashed the new Decepticons. I also go a kick out of seeing the Insecticons transformering into bugs the size of a car. The return of Circuit Breaker was perfectly timed. She came back just as the new Transofrmers began arriving, so there are more evil robots for her to play with. I didn't like the way she was hanging the heads on the wall. I hope they aren't really dead! That would anger me enough to go after Circuit Breaker myself (and I know you guys wouldn't want that).
Supin Ko
Hilo, Hawaii
Dear Marvel,
Whose side is Circuit Breaker on? So far, that stupid maniac has caused more trouble than good. She nearly caused the deaths of Jazz and Wheeljack, deactivated seven innocent Autobots, and recently helped Menasor defeat Superion. Why don't you place a Decepticon insignia on her costume and let her marry Megatron? Please either get rid of her or complete her costume by giving her brains.
Keith A. Perkins
New Carrollton, MD
Gee, Keith, you seem to feel pretty strongly about old C.B.. We'll bet that there are a lot of Transformers out there who share your feelings toward her. Let's hope that she changes her view soon, because, the way things seem to be going, she'll take out every Transformers on Earth!!!
New Ads This Issue