This is so exciting for me. Every time I publish a Marvel Transformers comic book review, I check the original issue to see if there was a reader letter section, what the Transformers comic called 'TransMissions'. If I find this in the back of one of the comics I'm reviewing, I will type up the letters and include them in my review. The coolest part about doing this for me is when someone who wrote one of these letters contacts me. it's happened once before with Jeb Hoge and now it's just happened again with Steve De Anda.
Steve's original letter to Marvel reads:
Dear Misguided Autobot Lovers,
I just gotta write this: In TRANSFORMERS issue #37, you made the Predacons look like a bunch of mis-wired clods. It just ain't fair. Stop making the awesome Deceitpcons look like a meeting of Wimps Anonymous. Sure, They're not exactly the friendliest guys in the world, and Ratbat may be a jerk, but please, show a little sympathy.
Another thing – are the Throttlebots gone forever? Their bodies don't look so good. I spent most of my allowance collecting them and then you go and do this. Now I've got to find a car crusher that will smash such tiny cars!
Overall, you people are doing a wonderful job. I wanna see Octane meet up with Ratbat. That should show the Ratster how to conserve fuel! Keep up the great work, Oh yeah, I loved the HEADMASTERS!
Steve De Anda
El Paso, TX
And the response he got back all those years ago:
Sympathy? You want sympathy for a giant robot who's… unh… looking over my shoulder menacingly as I type this? Why, sure, Steve, no problem! Oh, and Ratbat has the address of that car crusher you wanted…
Well Steve recently contacted me through my website and I was able to to ask him some additional questions over e-mail. I hope you all enjoy his answers just as much as I did.
Youseph: How did you discover the Transformers?
Steve: I think it was at a mall in my hometown of El Paso, Texas back in '84. I was ten and my sister was nine and I remember being in a department store and getting Sunstreaker while she got Mirage. I wasn't aware of the comic or cartoon. All we had were those two toys. I remember opening Sunstreaker that day and just being completely blown away. It was from a neighbor kid that I found out later on there was a comic but that was after the miniseries came out.
Youseph: Where did you get your Transformers comics from?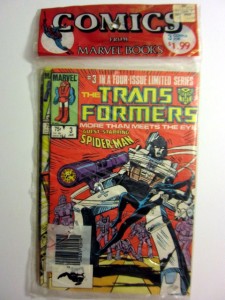 Steve: At first it was the comic racks of grocery stores and gas stations. I didn't start with the comics until issue 5 but I remember buying 1-3 in a comic 3 pack at a now defunct store chain called Winn's sometime in '85. Winn's was my source of Transformers back issues because of those comic packs. They were just flimsy plastic bags with a red banner on top and a graphic of Spider-Man with a blurb announcing you got 3 comics for $1.99 or whatever the price was. They were all second printings. It bothered me when I was a kid that all I had were second printings of those first three issues as they didn't seem as authentic as first printings and owning them made me feel like a bandwagon hopper. I was missing #4 for the longest time because I had to wait for a second printing of it to show up in the three packs. I didn't know comic shops existed until sometime around 1986 or else I'd have gotten 4 much sooner.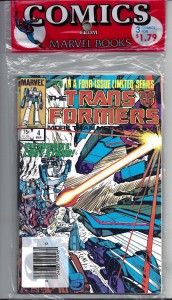 Primarily I'd buy them when my mom would take us to get groceries. I'd always hit the comic rack in the magazine section and that's how it was for me from issue 6 to around the mid forties. I also occasionally used a mail order service called Westfield Comics and got them delivered to me each month. I hung on until #76 when I gave up on the comic because I just got tired of the whole Unicron schtick. I remember paging through #76 in the grocery store and it being the first Transformers book after all those years that I left on the racks. I guess I just outgrew it. At the time I was heavy into the more teenager oriented Spider-Man comics.
It wasn't until 1993 that I finally tracked down a first printing of TF #1 for the astronomical price of $5 at a shop called 1,000,000 Comix in Laramie, Wyoming. I knocked out the last five for $10-$15 each at a comic shop in Los Angeles around 2004 that I found after going to Botcon that year.
Youseph: You found my website because I republished a letter you wrote to Marvel about the Transformers comic. What compelled you to write to them?
Steve: I remember being 14 in '88 and not sophisticated enough to appreciate the writing talents of Bob Budiansky or his style of telling off the wall stories. So at the time I felt like that issue where the Predacons got defeated by the Throttlebots was grounds for getting the guy fired. Not only was it the lame Throttlebots, but their brains were stuck in little radio controlled cars. And you have the Predacons who are supposed to be big bad Dinobot busting hunter badasses but end up unable to catch the tiniest of prey. I guess I just about had it with Budiansky. Looking back it's a pretty funny story about mismatched opponents but it had me nerd raging at the time. I understand now it was just the kind of off kilter story he liked to tell and I never should have expected dark and gritty robot murder war epics filled with teenage angst like I wanted. I guess I should have realized I outgrew the stories but instead I felt like I was constantly getting trolled by Budiansky the whole time.
Youseph: What was it like to see your letter printed in the back of the comic?
Steve: I posted on your blog about how hyped I was about the new Powermaster Prime figure and how I wanted it more than anything in life at the time. I was so amazed and excited that my letter would be printed in the issue where he comes back. It was like the best Christmas present ever for a Transformers comic/PMOP fan. Then I read it and I remember being annoyed upon finding that the letter got edited and was a bit different from what I originally wrote. I felt slighted by that, like my serious criticism was made to look childish. I can't remember specifics except that the term 'Wimps Anonymous' wasn't mine. But I see now that the edits made the letter more interesting to read. I went to Iacon One in 2006 and met Budiansky there and got to sit down and talk to the guy for a little. We talked about the letters column and he said if I brought him the issue he could probably remember answering it. He said he answered most all of the letters in Trans Missions personally. Unfortunately I didn't have 42 with me so he couldn't go into specifics about mine.
Youseph: Who are you today and are you still a Transformers fan?
Steve: I live in southern Florida now. I am the dad of a seven year old Pokemon obsessed video game maniac and he thinks Transformers are for old people, which is kind of funny. I know they still make Transformers comics but don't read them anymore nor do I go to Botcon and I only buy the occasional bootleg of a Masterpiece here and there. Since many of the old comic artists come down here for conventions I've gotten to meet them and have them sign my childhood comics. Despite my kid self thinking that 2nd printings were for losers, when I finally had the chance to meet Bob Budiansky or Bill Sienkiewicz it was my original beat up old 2nd printing of #1 that I had them sign.
I want to thank Steve De Anda for taking the time to let me interview him. Through our trading of e-mails back and forth, I've learned that Steve has his own impressive Podcast. It's one that I've really enjoyed listening to and am currently going through all the back episodes. Check it out if you have a minute. He focuses on Robots from the 70s and 80s. It's really quite impressive. I really don't think you will be disappointed.