The second part of the Underbase Saga begins with, 'The Flames of Boltax'.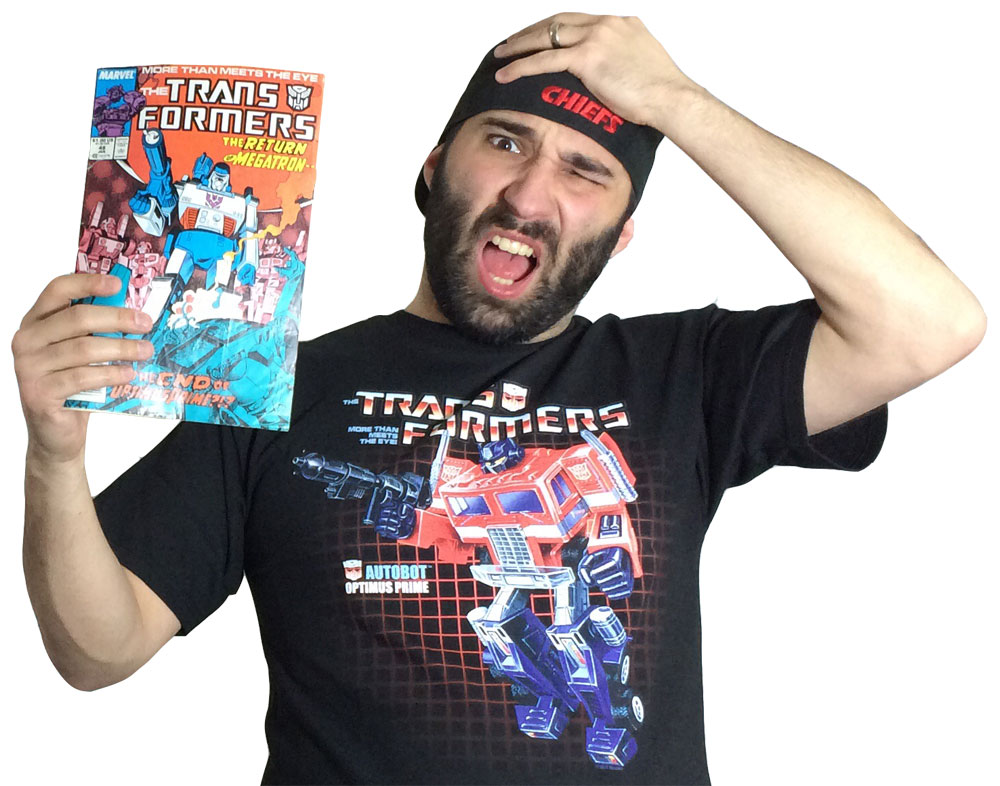 Check Out This Retro Optimus Prime T-Shirt From 80sTees.com
We have a cover with issue 48 that feels very toony. It's not actually bad. It's just a different style then I am used to seeing. The faces are showing emotions and expressions that I don't think we have seen on any of the Transformers before. Megatron, who has not been seen since issue 25, stands over a fallen Optimus Prime who has been shot down by Megatron's still smoking fusion cannon. Behind them stand the Triggercons. Just beneath the Transformers logo reads, "The Return of Megatron and the end of Otimus Prime?!?" Like a lot of covers for the Transformers, this is another one to put in the misleading pile.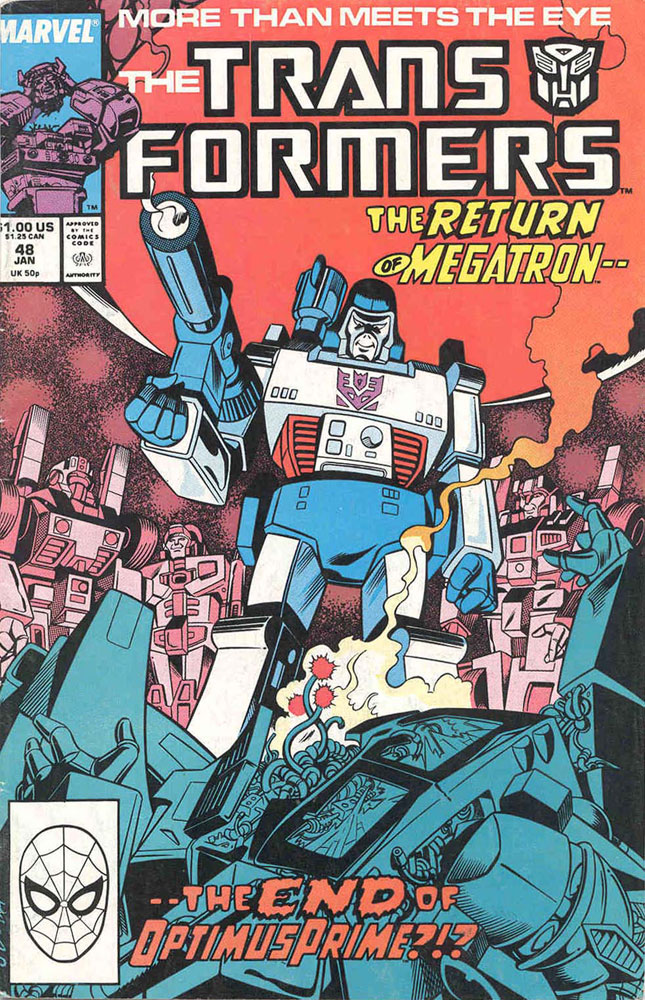 We open up to a scene of Buster Witwicky being chased by alien creatures across an alien world. After taking a laser blast to the chest that does not kill him the world around him dissolves reveling Ratbat. It turns out that Buster was running around within a full-sensory holographic projection system called Realvision. Buster was being unwittingly used to test it out. With the testing complete, Starscream announces that the system is now ready to review the Autobot tapes. This statement catches Busters attention, but Ratbat has the human sent back to his holding cell.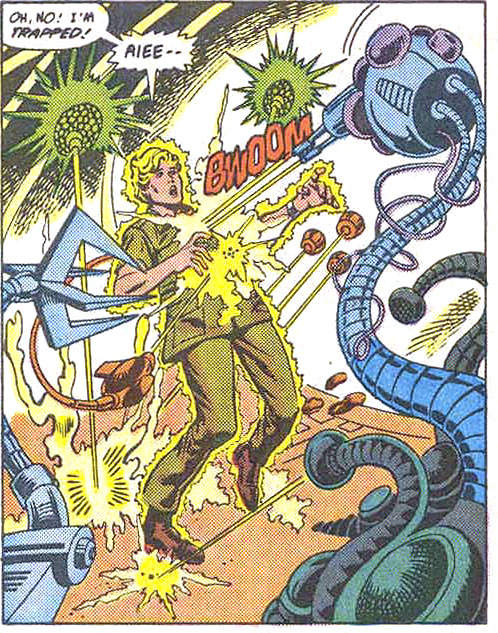 With Buster gone, Ratbat and Starscream fire up the Realvision system and soon find that they are being shown a holographic projection of their home world of Cybertron four million years ago at the cusp of the Cybertronian Civil war. It is here they witness the Triggerbots, a then, Lieutenant Commander Optimus Prime traveling in alt mode to High Circuitmaster Boltax. Prime hopes that Boltax's vast knowledge of many things will help end the war before it escalates any more. The group of Autobots preserver through several traps on their mission while being completely unaware of Megatron and the Triggercons or observing their actions.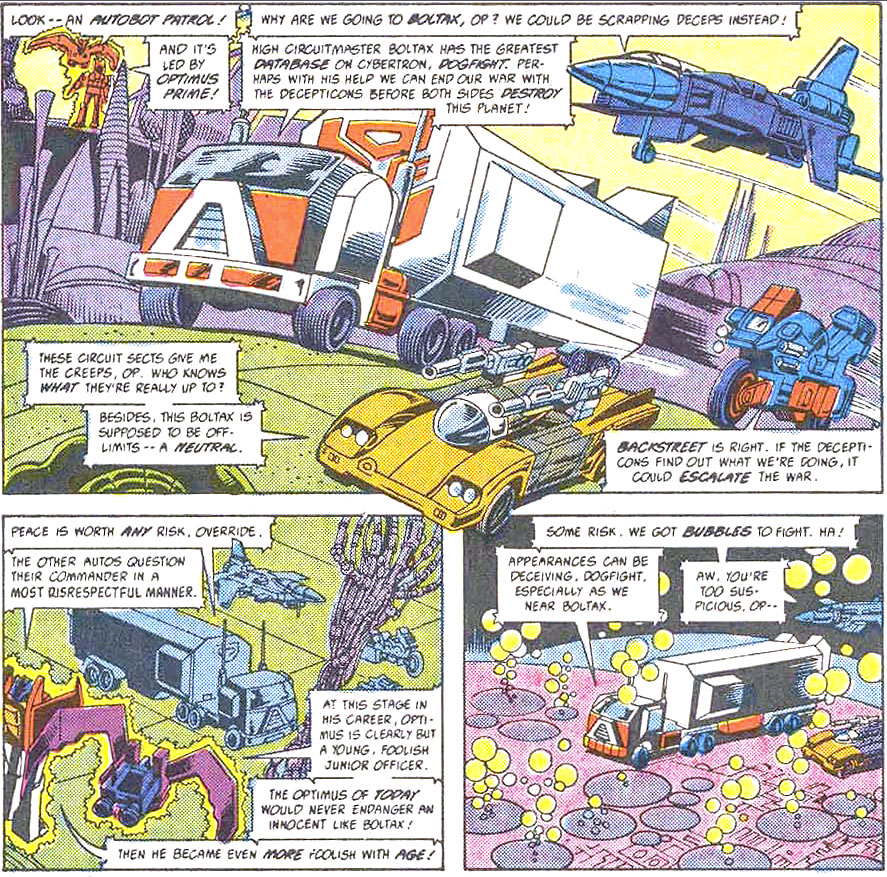 Back in his cell, Buster escapes through an air shaft to learn more about the Autobot Tapes.
Returning to Ratbat and Starscream, we no observe Optimus Prime and Triggerbots reach the Temple of Knowledge. Optimus Prime is allowed to pass through to Boltax, but only alone. The Circuitmaster himself does not offer Optimus Prime any real help, but does instruct him to seek out what he is looking for inside the Underbase. It is learned that each Transformer carries a DATAbase within each other. The Underbase is said to be a collection of knowledge that UNDERLies all dataBASEs.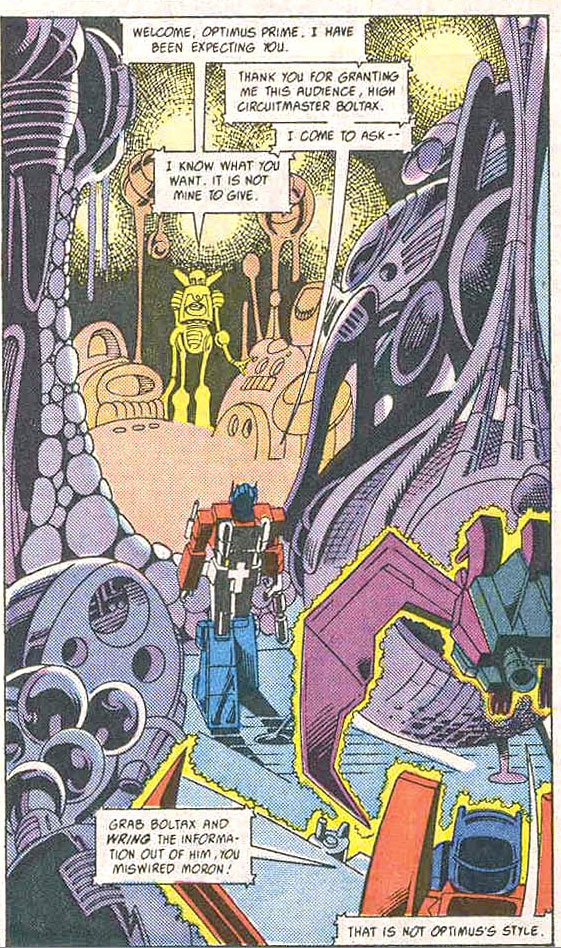 As Optimus Prime subjects himself to the lights of the Underbase, Buster enters just in time to see Megatron Blast his way in through Boltax and the disciples. When Optimus Prime is confronted by Megatron, he tells him that the knowledge and power of the Underbase is too much for any one being to possess. Not caring, Megatron coldly blasts Optimus Prime before heading to the Underbase. Though Injured, Optimus Prime manages to manipulate the temple's controls and launches the Underbase into space to prevent Megatron from claiming it.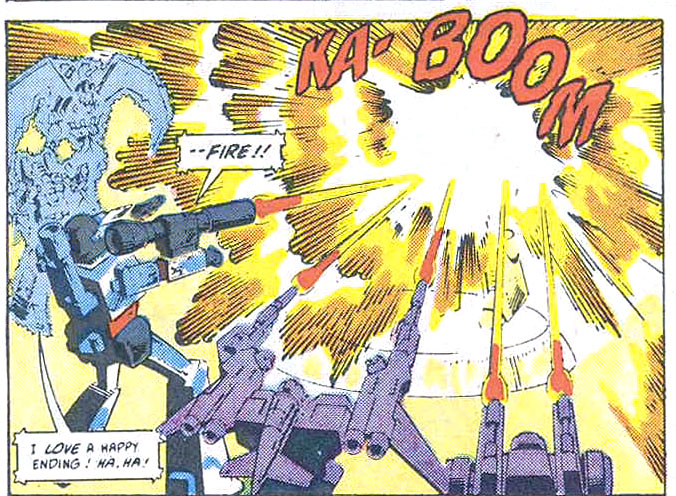 The Realvision session ends as Ratbat and Starscream review what they've learned. The Underbase is not at all a myth as has been the normal thinking. Soundwave discovers that the tapes also hold course calculations that reveal that the Underbase will be passing through Earth's solar system with in a week. Quickly the Decepticons get to work on how they will capture the Underbase.
Buster, having overheard just about everything, sneaks off in an attempt to warn the Autobots but is discovered by the Decepticons.
My Thoughts On This Issue
It's a solid issue. It was nice to see Megatron again even if it was just a flash back. He was rendered fairly well. One of the coolest parts was seeing Optimus Prime's alt mode back on Cybertron four millions years ago. However, I don't believe this matches up with the first issue and how Prime was rendered.
The issue almost feels like a reunion seeing Starscream, Megatron and Optimus Prime all in one issue again.
No Transmission Letters This Issue
New Ads This Issue