So whats next for Optimus Prime and the Autobots? Will we learn their fate in this issue? Will we get some of the Autobots Vs. Decepticon battles we have been waiting for? Lets find out. But first, lets check out this comic book cover art!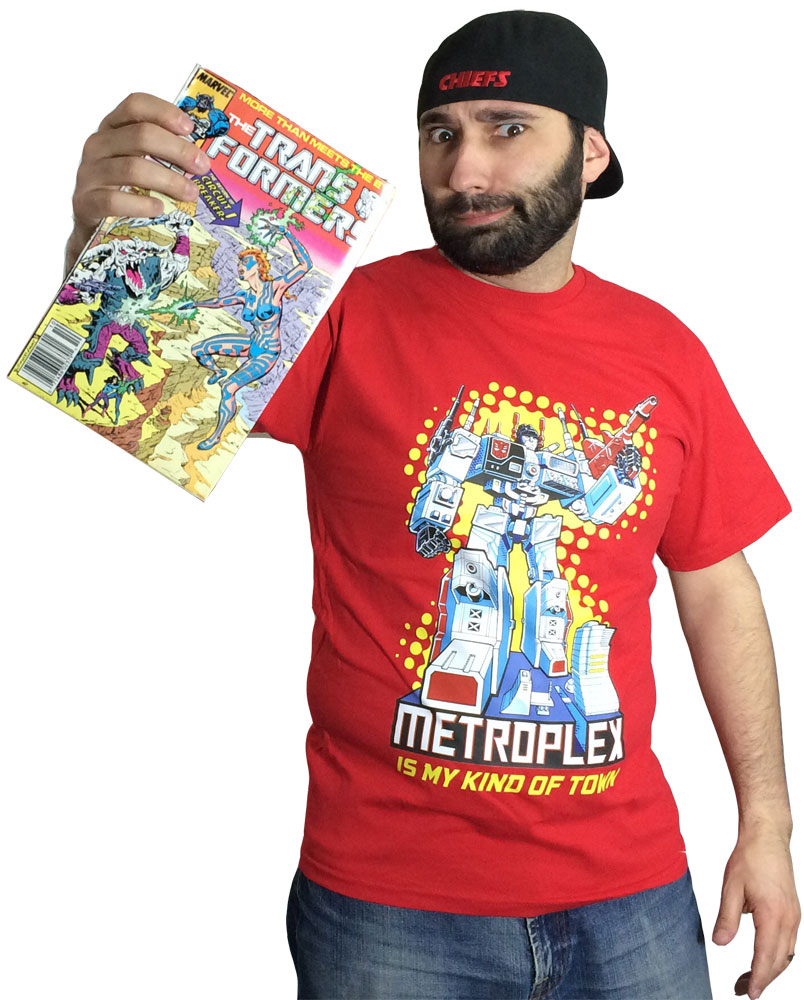 The Metroplex Transformers T-Shirt from 80sTees.com!
At times I hate writing about cover art. This is only my opinion and I know not everyone agrees. On the cover of issue 45 we have Circuit Breaker fighting Skullgrin. It's very nice, in a nostalgic way, to see Circuit Breaker back again. Sparks are radiating from her hands as they not only interact with the Transformers logo at the top of the book, but also are used to attack Skullgrin. A great big arrow pointing at Circuit Breaker reads: The Return of Circuit Breaker! I think my problem with this cover has to do with the background. It's just so busy with it's line art. The characters are done so well and they do pop off the page which helps. But the background reads very busy to my eyes. Anyway…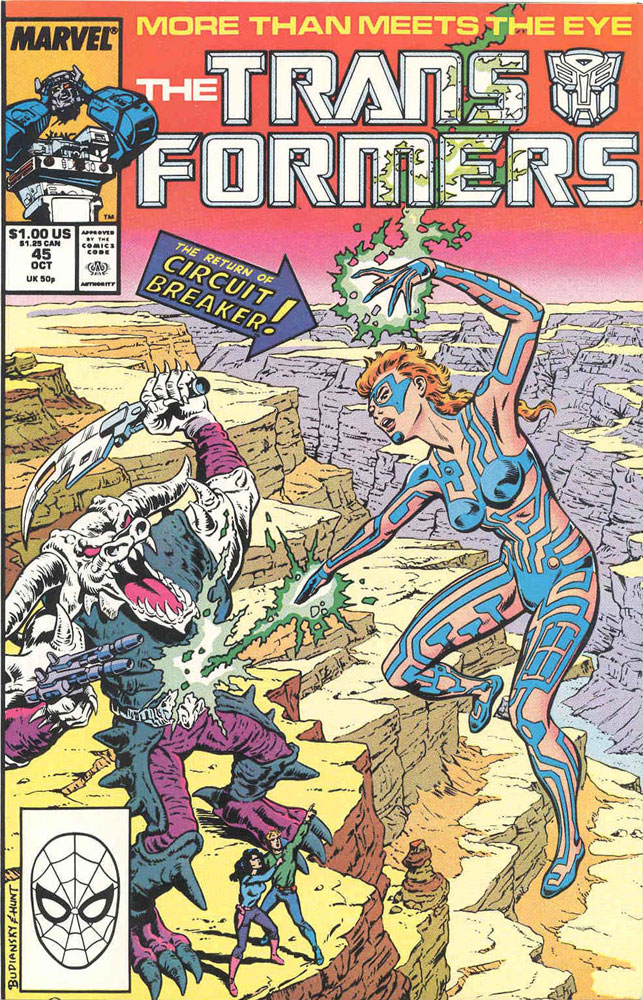 Marvel Comics' Transformers, Issue 54 starts off on the set of a B monster movie where the robotic monster star of the film shorts out and explodes. Rollie Friendly, the movie's directory is upset because this explosion will be setting his movie back weeks and cost a lot more money to complete. That night Friendly is talking with this PR expert Mitch Keno and Keno has him tun into a newscast about Transformers.

Sky Lynx returns to earth with the human children passengers. After landing at a pre-arranged location, Sky Lynx release the children to their parents. When asked to stick around for some interview questions, Sky Lynx reluctantly agrees. Its only when anti-robot protests interfere with the interview that Sky Lynx flies away.

Keno advises that Transformers would not be good for the movie business, bur rather thinks Rollie should check out a bigfoot sighting as noted in The Inquisitor. Since Rollie can't do anything for a few weeks do to the earlier robot malfunction, he grabs a camera crew and his two human stars, Jake Colton and Carissa Carr, and heads out to the location of the last Bigfoot sighting. Upon their arrival in North Carolina, the group picks up a local guide and slip past the National Guard check point. After about an hour or so they run into Skullgrin!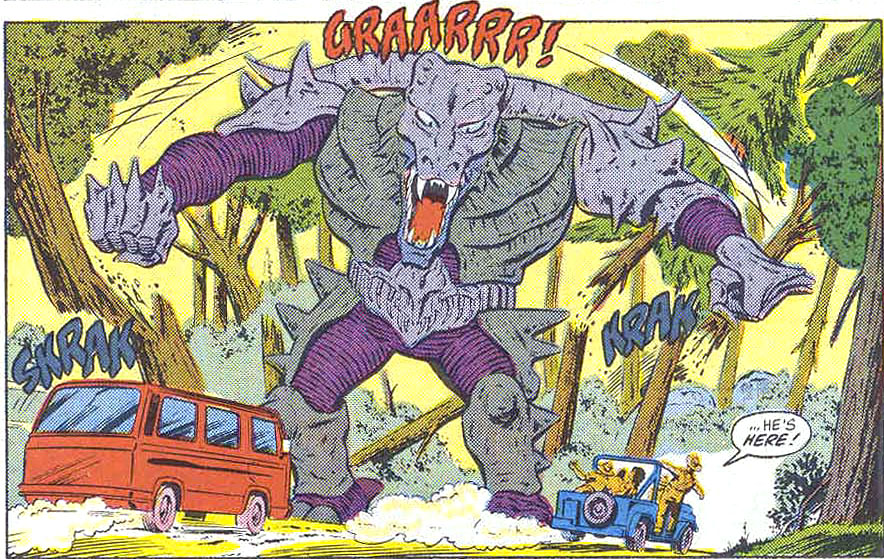 After a quick, shall we say, altercation, Rollie talks Skullgrin into working for him on a movie. At this point Skullgrin remembers that he was sent to Earth by his Decepticon commander to establish a secret fuel depot for his comrades. So with this in mind, he gets Rollie to pay him in fuel for his work. Skullgrin is taken back to Hollywood to work on films.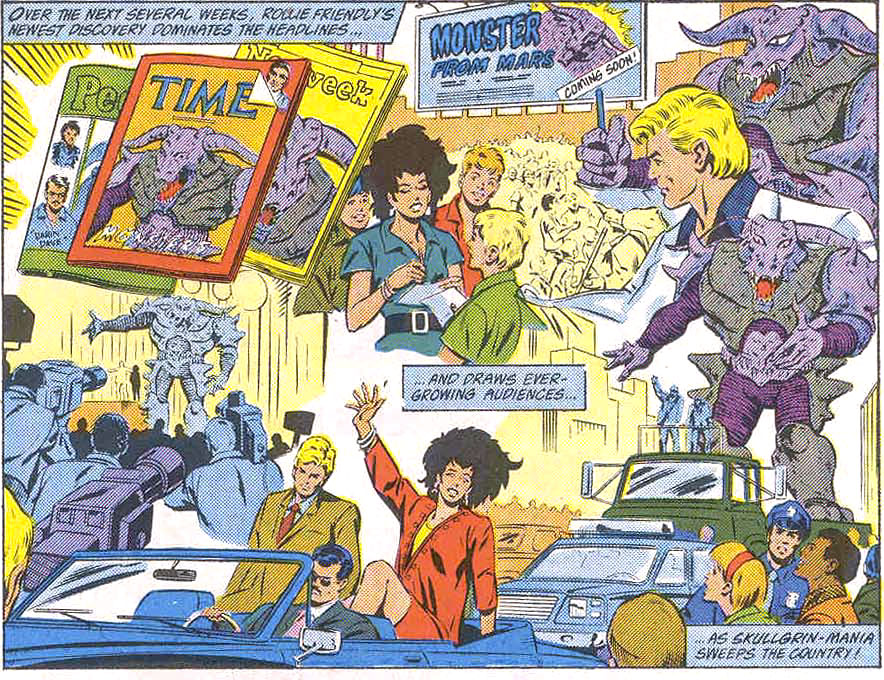 In Hollywood, Skullgrin is adjusting to his new role in the movie business. He is being prepared for his first press conference when things go a wrong during his interview. The actress, Carissa manages to calm him down.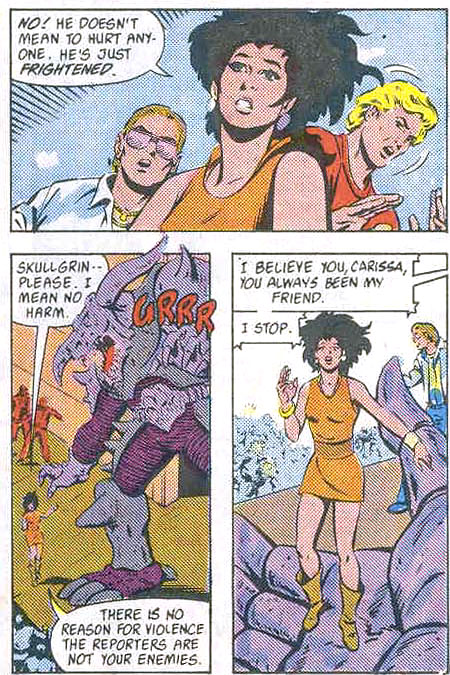 At the end of the press conference, Carissa meets a wheelchair-bound women who clams to be depressed about not seeing more of Skullgrin. Carissa reveals to the women that the film will be moving production to the Grand Canyon soon.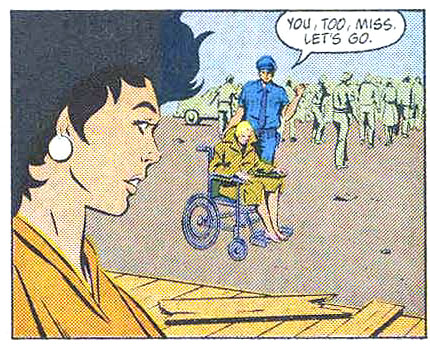 We cut to the Grand Canyon. Rollie has just called for a break in filming so Skullgrin and Carissa go off to chat. Carissa confides in Skullgrin her real name. Ethel Stankiewicz. Skullgrin confides in her that he is a Pretender and removes himself from his shell for the first time this whole issue. At this point we learn that the wheelchair bound women shows herself to be Circuit Breaker.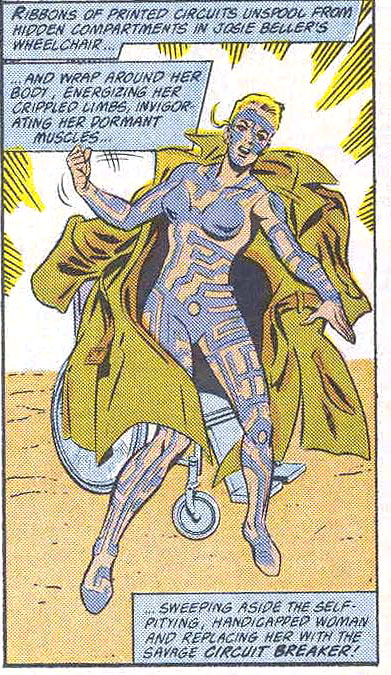 Skullgrin and Circuit Breaker engage in a fight. Rollie catches this and begins filming right away. During the battle Skullgrin saves Carissa's life which allows Circuit Breaker pound him with electro-bolts. She is about ready to put an end to Skullgrin when Rollie yells at her to kill him on screen and he will pay her twice as much as he normally would an actor. Circuit Breaker is appalled that Rollie would suggest such a thing resulting in her zapping the directors equipment and leaving. Skullgrin is left alive, but injured.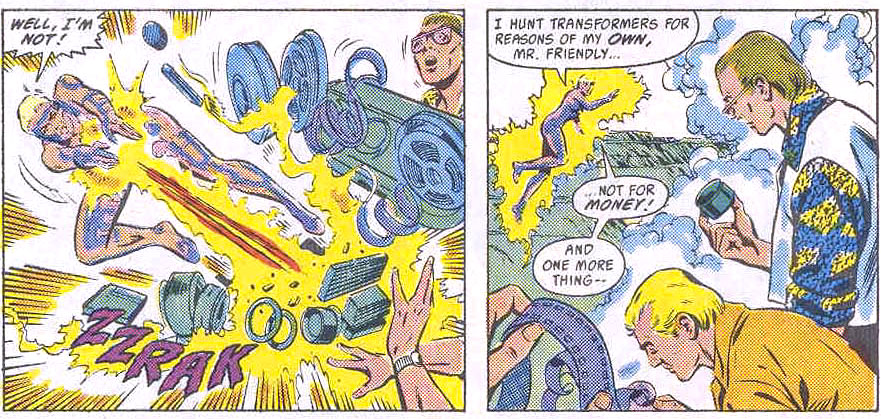 My Thoughts On This Issue
What is with all these side stories. Like every other issue is a side story. Is marvel just throwing darts in the dark hoping to strike a positive note with readers like they did with with issues 33 and 34, the UK stories?
Skullgrin's portrayed is in such a way that I am sympathetic to him. First time that I can recall hoping that a Decepticon makes it out alright. He does not seem like an evil bot. Just blindly following orders. Perhaps that will change in the near future.
It's a decent story. Human heavy. Arts is alright. But, I don't need it. It just feels like a side story. Almost a filler, but more like they are trying something out to see how the readers will react.
I am also noticing a lack of Transmissions Letters in the last couple of issues. Wonder why?
No Transmission Letters This Issue
New Ads This Issue