While I was snagging up copies of Transformers comic books off of ebay, I was reading a lot of posts of comics for sale stating "First printing" or "Second printing" or even "Newsstand". Looking at the cover pictures of these books that often follow an ebay posting, I could not see any difference in first, second or third prints, let alone what they meant by newsstand edition. And honestly I didn't care. I just wanted the whole collection of the original Marvel's Transformers, issues 1 through 80. But some of you may care. Some of you may be more of a diehard collector than I am. So here is how you can to tell the difference in comic's printing and whether or not it was bought off a newsstand or in a comic book store.
Older comics, like the Transformers comics I am after, could have been bought at a comic book store or a supermarket's newsstand or magazine rack.  The difference between the two is that comic books in the 80s found on a newsstand had a white box on the cover with the barcode printed on it. Comics found in specialty comic book stores still had a white box on the cover, but rather than a barcode they would have a picture of Spider-Man for Marvel and the DC logo for DC. Today comic books bought on a newsstand or a comic book store both carry a barcode but it will state on it "Direct Market (for comic book stores) or "Newsstand" for newsstands  Collectors go after the comics with the picture on the cover or ones that say "Direct Market".
From my research there seems to be some debate over the value of newsstand comic books. Newsstand comics books, ones from the 80s and older, can be a lot harder to find in gem mint condition. This is because most people buying comics from a newsstand where not collectors so these comics where not as well cared for. Plus comics siting in a newsstand had a higher likely hood of being damaged just because of the newsstand environment. Finding these books in a great condition can be much more difficult and can be seen as worth more by some sellers. I don't know if I agree with that and there doe seem to be a lot of arguments around the web because if it.
How to tell if a comic book is a first, second, third or higher printing. What I have learned is the general rule for telling if a comic is a first, second, third or higher printing. It does not apply to every comic book ever printed, but for the most part should be a useful tool for you if you are concerned about acquiring one printing over another.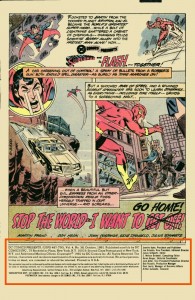 All comics when they are initially released are considered to be first prints. Sometimes an issue will sell out quickly and the publisher will go back to the press and publish a second, third or even fourth printing of a popular comic book.
Comic books have an indicia normally found on the bottom of the first page of older comic books and on the last page of more recent books. The indicia will contain information like title, issue number, publisher information as well as which printing the comic is. A comic that is a first print will either have "First Print" in the indicia or nothing at all indicating it is a first print. Second prints and any additional printings will be stated in the indicia. Something like "2nd printing" for example.