Ever since I have been getting into Dungeons and Dragons I have been researching battlemat options. Battlemats can be used to help display combat aspects of a D&D game. Some people like to use them, and some don't. I do like to use them.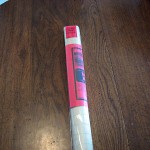 Since I have started researching battlemat options I have been very disappointed with the reviews I have see on other websites and blogs. There seems to be one cream of the crop option when it comes to battlemat choices for D&D gamers. That would be Dwarven Forge sets. (Check them out on youtube) But I do find the Dwarven Forge option a little price prohibitive for me.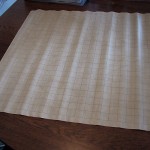 Now after Dwarven Forge, the choices for battlemats are a little less clear. A friend of mine got the Paizo GameMastery Flip-Mat which is a double sided laminated mat with 1 inch by 1 inch squares drawn on it. Because it is laminated you can use just about any kind of marker on it and wipe it off when your done playing. But this battlemat does come to you folded, and you can fold it away for easy storage when your not using it. However it dose not lay down very flat as a result. Which I do find annoying.
Another option (and the one I went with) is the Chessex Battlemat. This is a vinyl mat with an overlying black 1 inch square grid on it. It came with some short directions on how to keep it clean. It lays down flatter then the Paizo mat. But you do have to take a little bit better care of it. You only want to roll it up for storage as folding it will cause creases. You only want to use water based markers on it. Like the kind you would use on an over head projector. You also want to stay away from red and purple, and orange markers as the ink used in these colors to stain the mat.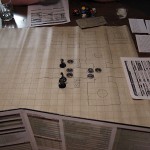 The Chessex Battlemat came with some short and simple care instructions with it which I have found helpful. They also shipped to me here in Juneau Alaska very well. Using good post office packaging and peanuts to unsure the product came to be undamaged.
I have used this battlemat a couple of times now and it has gone over really well. I am glad I chose it. These pictures don't show it very well but after a few minutes the mat dose lay down flat.