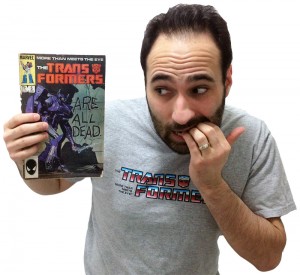 Marvel's Transformers Issue #5 establishes the Transformers as continuing comic and not just a four issue mini series like the covers of the first four issues imply. This is the result of how well the comic books were received in the 1980s.
Continuing from right from were Issue #4 left off is Issue #5, entitled 'The New Order'. The cover of this comic makes it one of the most popular and sought after comics for Transformers fans. The Transformers Logo is rendered in a deep red at the top of the comic. It featuring a no fucking around Shockwave in dark purple looking at the audience. Braking the 4th wall maybe? Shockwave stands in front of a wall that reads 'ARE ALL DEAD'. By the way his gun hand is smoking implies that Shockwave himself blasted the words into the wall. Taking into account where the last comic book ended this wall could be one of the inside walls of the Autobot's Ark space craft.
The comic book opens up to Shockwave inside of the Ark watching a bunch of television programs. Based on this he judges the people of Earth to be simple minded. All through out the ark are deactivated Autobots. Mostly strung from the ceiling to be used as spare parts. Shockwave believes conquering Earth will be a simple task.
Early on you get a real sense of Shockwaves personality. The best way I can describe him is like an evil version Mr. Spock from Star trek.
In another part of the Ark, The poisoned Decepticons are being brought back to life. Shockwave explains to Megatron that because he was defeated so embarrassingly by the Autobots and the Humans that he is the logical (remember Spock) choice to take command of the Decepticons. Megatron is in no condition to disagree, but is clearly scheming ways to take back his command.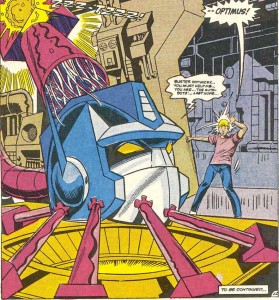 Back at the hospital, Sparkplug is recovering from his heart attack. He makes his son, Buster promise not to have anything more to do with the Transformers. So, of course Ratchet takes Buster back to the Ark to say goodbye to the Autobots. Once they arrive they discover that the Decepticons have take over the ship. Because of busters small size he sneaks into the Ark and discovers the deactivated Autobots but observes that Optimus Prime is not among them. He start searching the rest of the ship for Prime and in one room discovers his detached head functioning. The book ends with Optimus Prime telling buster that he is the Autobots' last hope.
Publisher: Marvel Comics
First published: February, 1985
Cover date: June 1985
Script: Bob Budiansky
Art: Alan Kupperberg
Colors: Nelson Yomtov
Lettering: Rick Parker
Editor: Jim Owsley
Letters to Marvel. Called TransMissions
The following are letters found in the back of issue 5 written by fans. I  really enjoyed reading these and I hope you do too.
Dir Sirs,
I think the TRANSFORMERS are neat!! – Scott Messmer, Florence, KY.
Dear DECEPTICONS,
Your penciler Frank Springer is fantastic! – Ricky Reyes
Dear Marvel,
I love the idea of the TRANSFORMERS!! – Mark Stadtmiller, Dearborn, MI
Dear Transformers,
So far the TRANSFORMERS Limited Series has been excellent. I hope you have a second limited series, or an unlimited series. (hint! hint!) – Lonnie W. Lorenzen – Gary, South Dakota
Dear Transformers,
I have been reading Marvel Comics regularly for over ten years, and this is the first time i have ever written a letter. The TRANSFORMERS is one of the best series to come out in a long time. I was very happy to find out that it will now be a monthly series. – Warren Sternin, Los Alamitos, CA
Dear 'bots and Decpt's,
RE: TRANSFORMERS Limited Series: Great! Marvelous! Wonderful! Stupendous! I liked it, too! Thanks, Jim! – Ed Arnold, Colonia, NJ 07067
Dear Marvel,
I was very pleased to hear that TRANSFORMERS will be a monthly series (although I hate waiting a month between issues!). – Arun Shukla, Queensville, Ont Canada
Dear Marvel,
What's with the "FOUR ISSUE LIMITED SERIES"? I don't mean to be cruel, but what does this mean? I know you got lots of letters saying 'WE WANT TRANSFORMERS.' Don't you want to keep going? All I'm trying to say is, don't give Marvel and TRANSFORMERS a bad name. – #1 TRANSFORMERS fan Oliver Retana
Dear Marvel,
I would like to compliment you on TRANSFORMERS. I have two of them and they are terrific! Hats off to you! – Jeb Hoge, Tullahoma, TN
We know what you mean jeb. we've got a bunch of them here at the office and we can't resist playing with them ourselves!
Dear Robots,
Yow! The TRANSFORMERS are my kind of people! – M.A. Cross, Danguard, NJ
Dear Marvel and fellow transformering people, I love you! You're Great! – J. Baldwin, Oak Park, IL
Dear TRANSFORMERS,
If you don't make this comic a monthly series, I'm going to come down there and do something that might hurt somebody. (Only joking!) But I still say make it every month, or else!! Grr! Growl! – Reese Copeland, Yakima, WA
Dear Marvel,
TRANSFORMERS Limited Series is awesome!! I recently read issue #4, and it was fabulous! I read it is going to be a regular series – great!! – Paul Bacas, Alexandria, VA
Dear Marvel Comics,
I am very glad you decided to continue your TRANSFORMERS series. It was the best four-issue limited series you ever made. – Chris Crum, Trenton, NJ
Dear fellow Autobots,
What can I say? I love your comic! Reason 1: There is so much action, I can't keep up with it. It's great! As soon as I pick up the comic I sure won't put it down. I'm darn glad it's gonna be monthly. You can bet my subscription will be in any time now! Reason 2: Fabulous artwork! Keep up the good work guys! – Brian Stokes, Moweaga, IL
Dear Jim,
Hello! When you bring out the TRANSFORMERS monthly series, please show the DINOBOTS a lot. I think TRANSFORMERS are the hit of the 80's. I hope they will be around for a long while. Keep up the good work on TRANSFORMERS. I thought the limited series was great. The only thing I did not like was the bi-monthly stuff. Keep up the good work! – Ricky O'Connor, Saco, ME
Dear Marvel,
Congratulations on your TRANSFORMERS mini-series, it's a great success. I've just finished the third issue and I', dying to see what'll happen next issue. Let's shake a leg with the regular series; I can't wait for the first issue! – Darren Russell, Westbury, NY
Dear Marvel,
I think the best mini-series is the TRANSFORMERS. I think you should make it a monthly series. I would buy it if it ever does become a series.
I watch the TRANSFORMERS every Saturday morning on KPTV-12 in Portland, Ore. If you don't continue the show I would be very disappointed. TRANSFORMERS is the best comic book, next to G.I. Joe and POWER PACK, that was ever created by man!
I have really enjoyed reading about OPTIMUS PRIME and MEGATRON's adventures on earth. I have read each comic 3 times over, and they get better each time. – Robert Lorenz, Battle Ground, WA
Dear Editors,
I just worte to tell you how pleased I was to hear that the TRANSFORMERS was going to become a regular series. I just finished reading #4 and I can't wait to read #5. I wish you the best of luck in making the TRANSFORMERS one of the best at Marvel. – Luis Luciano, Brooklyn, NY
Dear People,
Are you crazy or something? the Decepticons victorious? The Autobots defeated? No way! TRANSFORMERS are terrific! Superb! Sensational! And Awesome! There is no way I'm going to let you guys stop TRANSFORMERS! – David Kinder, Sunrise, FLA
ISSUE 4's Ads
No new ads this issue.