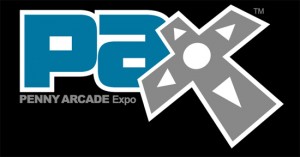 I came back from Penny Arcade Expo (PAX) on Monday and I thought I would give a little writeup on how it went.
At PAX you are surrounded by thousands and thousands of gamers. Computer gamers, console gamers, card gamers, role playing gamers, dice gamers and so on. It really does not matter what kind of a gamer you are. You could even just be the casual gamer and still find a place at this convention. You can easily talk to anyone at PAX about any aspect of gaming you want too. It's such a friendly and fun atmosphere. This is why I have gone for the last three years.
While at the convention I picked up the following items.
Cards Against Humanity which is an adult card game much like Apples to Apples. Just for adults. The tag line is "A Card Game For Horrible People". So many people were playing this all throughout PAX and laughing hard while playing it that I had to pick up my own copy of the game. Cards Against Humanity started off as a free game and still is free. You can download the free PDF and print off your own cards. After a while they started a Kickstarter project to have official cards made. Now you can buy your own like I did thanks to the people who helped fund their kickstarter project.
Smallworld – Be Not Afraid… Expansion. Smallworld is a great board game I have been playing with friends for a while now. I was stoked to find this expansion for the game and can't wait to play a game using it.
Pathfinder: Ultimate Equipment is a new Pathfinder Roleplaying Game book with all kinds of Weapons, magic items, armor and much more. This is going to be such a useful tool for me when planning out adventures in my own Pathfinder game.
I was disappointed that TECMO/Team Ninja's Dead or Alive 5 did not have a booth. This is one of my all time favorite video games and I have been looking forward to part fives release for over a year now. The last edition of the game was not available for the PS3. This version is and I am stoked to get back into it.
I was pretty impressed with Nintendo's Wii U showing on the convention floor. The graphics are way improved and the controls were pretty neat. Now they just need games that support the new hardware in unique ways.
PAX rocks and I am looking forward to next year.