This week I was contacted by Russell, who took advantage of my IKEA Comic Book Photo Frame Hack after getting some comics signed at New York's Comic Con. What follows is Russell's account of finding my post and how he went about hinging his comics. Check it out!
Last year I had gotten some comics signed at New York Comic Con (NYCC), and I was looking for a way to display these books and show off the beautiful artwork.  Initially I had found the frames from Frame It Again Sam.  But these frames, as nice as they were, just seemed way too expensive, especially for the lower cost books that I had.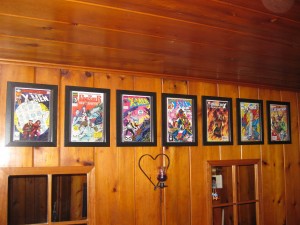 I did some more searching and found this site, and decided to give it a try.  The idea seemed to make sense, the frames still looked pretty good, and it all fit my budget a lot better.  Have to say I am very pleased with the results.
This is absolutely perfect for the types of books I wanted to display.
I wanted to send in some pics before, but I didn't seem to have quite enough books to adequately show off the great results.  This year, different story.  After this year's trip to NYCC, I have a decent selection of signed comics and decided it was about time to display these amazing beauties.  In fact, I have so many books, now, I'm going to need multiple walls and 2 different rooms to hang them all.  Unfortunately, the second room is currently being renovated, so for now all I have is a small taste of my collection.  I'm a big Jim Lee and X-Men fan, as you can tell.
One small change I made to the original instructions was to use some Command "Damage-Free Hanging" hooks and strips, as I'm trying to put as few holes as I can in the knotty pine plank paneling that I have.  The micro hooks set (holds .5 lb) seem to work just fine, so those are the ones I'm using.
Thanks again for the awesome tip, and the incredibly lighter load on my wallet!  So glad I found this site.  I absolutely love the results, and couldn't ask for a more cost effective solution.  I'm hoping to have my other room done soon, so look forward to some more pics in the not too distant future