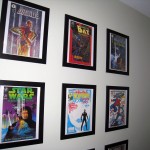 I love hearing from people who find my blog to be useful. It gives me such a warm and fuzzy feeling inside. Recently, I received and e-mail from Kiley out of Chicago, Illinois. (Shout out to Illinois based, Local H and all their Fans!) He wrote me about finding my website and my Ikea Comic Book Photo Frame Hack. He also sent me some pictures of how he had setup his computer room using my instructions from my IKEA Photo Frames post. Kiley, was kind enough to send me some more words about his computer room and this thought process for using IKEA Photo Frames to display his comics.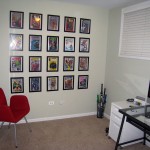 So my wife and I just moved into our first home here in Chicago and we also recently had our first little one in January. I'm a photographer and art teacher and my wife loves interior design so we were both eager to get art work, photos, and items from our travels up on our walls. One area that my wife gave me full carte blanche over was our computer room. Originally I was looking at some really cool comic book decals to fill one of the walls. I was eyeing a huge Hulk that was like 36X48 and a Spiderman one as well. Both looked like comic book covers. I was sold at first but then I started to think about all the comic books up in the closet of my mothers house.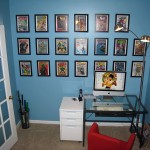 Thanks Mom, for storing them for so many years. I then googled comic book walls and found your site. After seeing what you had done I showed my wife and it was off to Ikea for frames. The next time I went home to my parents I had a fun afternoon sifting through the boxes of comic books I had  started collecting in the early 90's. I came into collecting pretty late in the game but collected all through college. Your  directions for putting everything up was perfect and I love not having picture frame hooks in the wall but being able to use the 3m adhesive velcro for the light and very affordable but actually pretty nice looking Ikea frames.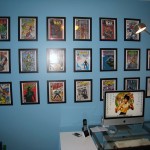 As you can see I am missing one frame in the corner and it's been like that for a while b/c I changed the configuration of the room. This actually gave me more space to put up comics so I am getting one more frame. And I can't wait to figure out which comic to put in it to put the finishing touches on the wall.
Thank you Kiley for taking the time to write me and letting me share your story with everyone! Your computer room and comics look great!
If you have seen my IKEA comic book Photo Frame Hack post and it has inspired you to display your comics, drop me a line and tell me about it. I would love to hear from you.