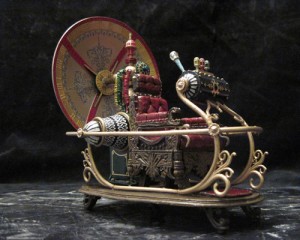 About a month after I released 'All That Matters' on the Amazon Kindle and the Barns & Noble Nook, I started working on a second book. A fictional story about time travel.
I get so excited just talking about it because I really think it is an amazing story that everyone is going to enjoy. Anytime I am asked what my second book is about, and I tell the person "time travel", their face's light up and tell me they can't wait for it to be release so they can read it. Receiving this kind of enthusiasm only motivates me more to finish this book as soon as I can.
When the idea to tell a time travel story came to me, I started by drafting out a 21 chapter outline. This does not mean that the final book is going to be 21 chapters. It could go over, or it could be under. Thats just a result of the organic process of writing.
At the same time I started the outline for this book, I also started a character list to jot down names and descriptions of all the characters on to. Again, another organic process for me that is constantly evolving and reshaping its self in new and exciting ways.
When I started writing 'All That Matters' it was in the beginning of 2011. I had few distractions in my life and was very much focused on completing the book. As I am writing my second book in this later half of 2011 and on into 2012, I am faced with more distractions and obstacles then I had with my first book. Holidays have been one thing that have been a distraction for me. My day job is another. So to say I have been busy would be an understatement.
All this outside pressure from work and the holidays has resulted in a very loose first draft of my book. Looser than I would like to have. What this means is that I am going to have to take a little more care, time, and effort when I take on the second draft of this story. But once the second draft is done it will be sent off to my editor.
I am the kind of person who likes to post to Twitter and Google+ how many words I have written each day. I like the idea of telling the world how many words I have written because it keeps me motivated and accountable. Its a practice I have not been doing everyday because I don't get to write as much as I want to everyday. I write everyday, but its mostly just a couple of hundred words. Not the thousand plus words I like to write.
By an extension this blog is also helping me remain motivated. By talking about what I am writing and what I want to write I feel like I am being held accountable to finish this book. Anything I can use to help my motivation is a good thing.