Starscream is gone. The Underbase is gone. The truce between the Autobots and the Decepticons is gone. Whats left and whats next? Where do we pick up? We find out in issue 51: The Man in the Machine! But first, lets check out this cover.
Show Your Autobot Allegiance With This Optimus Prime 84 Shirt from 80sTees.com
With issue 51 we are presented with a cover that I don't find all that miss leading. The updated Transformers logo on the very top of the issue could be overlooked if you're not paying close enough attention. Fortress Maximus is seen, headless, at a ski resort holding up the cables of a ski lift in an effort to protect the humans on board while two Decepticon Pretenders pounce into attack. Fortress Maximus' head lays before him in the snow while skiers swoosh by. "Slaughter on the Slopes!" is written in a snowy, icy, white font. I like the cover. Not the best i have ever seen but far from the worst, that's for sure.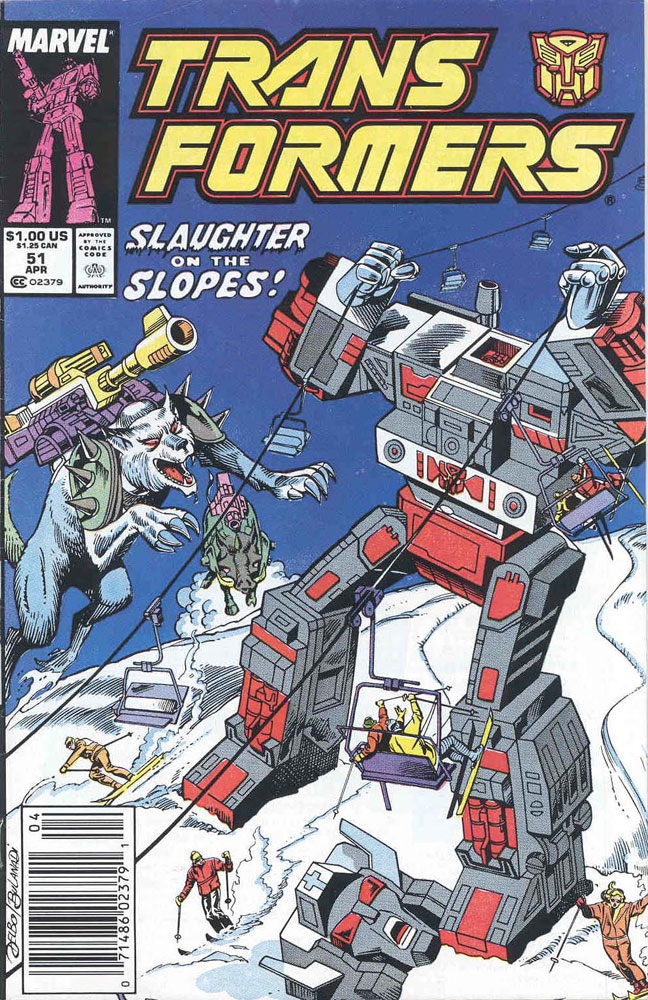 Issue 51 kicks off with Spike Witwicky caught in one of his dreams. He is being chased by mechanical everything before he wakes up with a start in his bed in his fathers new home in Oregon.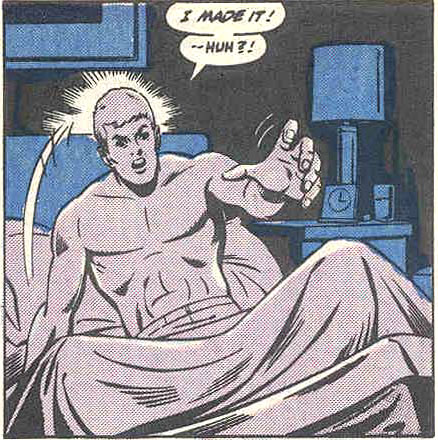 When morning arrives Spike is out of the house as fast as can be after saying hello to his dad and brother. He he is off on a spur of the moment ski vacation where he plans to get rid of his Headmaster control helmet. His thinking is that the helmet might be responsible for his evil dreams and he just wants to get back to his old normal life.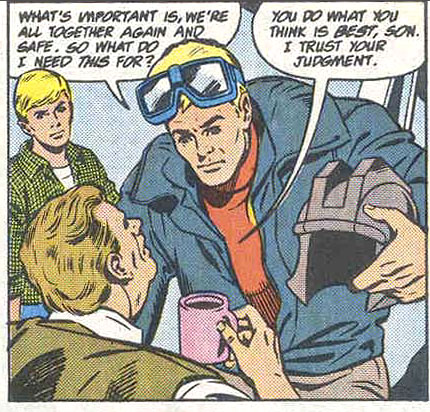 While Spike travels to San Francisco to pick up his friend and ski buddy, Cliff, he stops at a junkyard and tosses the helmet inside. Shortly after leaving the area, Carnivac and Snarler, two Decepticon Pretenders, appear in the junkyard in search of Fortress Maximus. They are on a mission from Scorponok, who wants Fortress Maximus' human component dead. With leftover residue inside the helmet the Pretenders are able to start tracking Spike.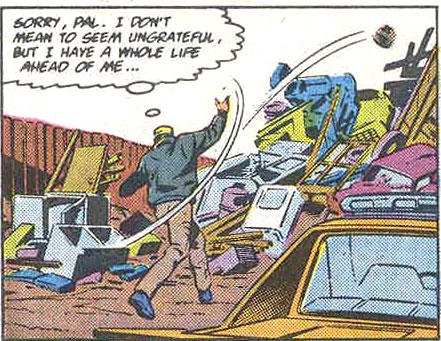 As Spike and Cliff now drive off to the ski resort, spike falls asleep and fall right back in to his nightmare. He again wakes up with a screaming start and Cliff is just looking at him with a weird expression on his face.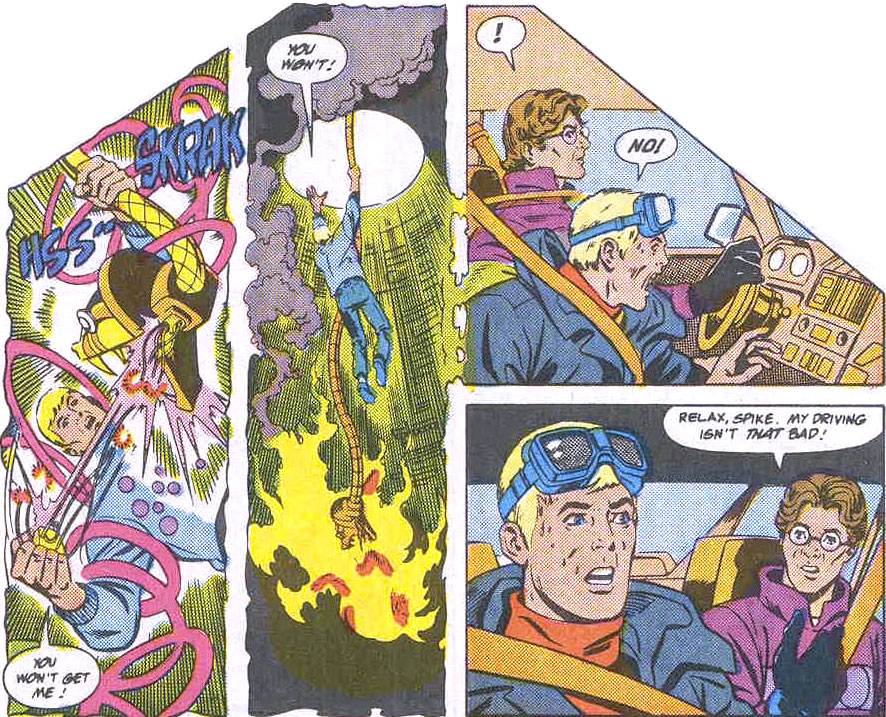 The next day the two are able to finally hit the slopes, but it is not long before they have their first encounters with the two Pretender Beasts. For a moment the two are able to how race the Decepticons on their skis. Spike and Cliff toss their jackets into a ravine in hopes that this will confuse the Decepticons. It works, but only for a short time.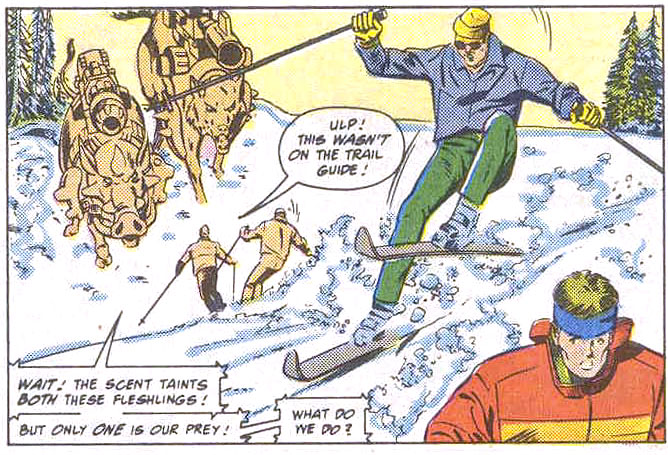 Spike and Cliff find shelter in a small cave where Spike unloads his secrets to Cliff. Cliff uses his recent self-esteem therapy to tell spike that his dreams are about him running from his "Other Self". In this case, Fortress Maximus.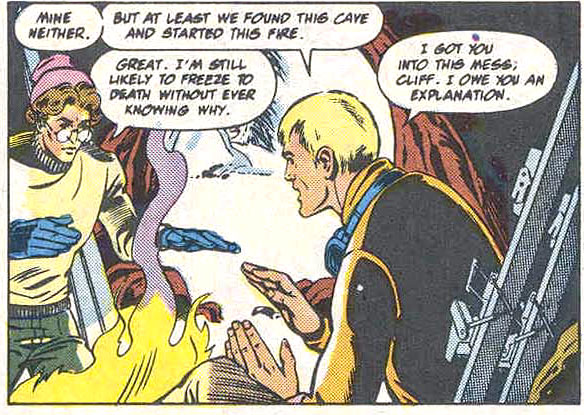 Next, spike falls asleep and in his dream allows himself to call into the pit. At the end of which he finds himself face to face with Fortress Maximus. This event triggers something to allow Spike to regain his psychic link with the Autobot. Spike is now able to call down Fortress Maximus from his storage space aboard the Autobot Ark.

By this time the Decepticons have found Spike and Cliff. Running through trees to try and slow down their pursuers, spike leads Cliff off a cliff and into Fortress Maximus' waiting hands. Using just his mind, Spike guides the Autobot remotely into battle with the Pretenders. The signal is lagged however giving the Decepticons the advantage. The Pretenders split from their shells and start attacking Fortress Maximus from all sides and in doing so collapse a chair-lift that Fort Max has to support to save human lives.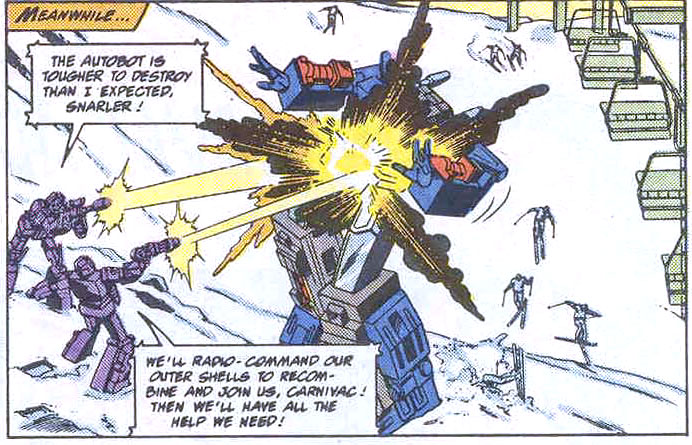 Spike retrieves his control helmet from the Pretenders and commands Max to release his Headmaster armor which automagicly assembles around him. Spike combines with Cerebros, and then with Fortress Maximus and fights back against the Decepticons unhindered and sends the Decepticons running away.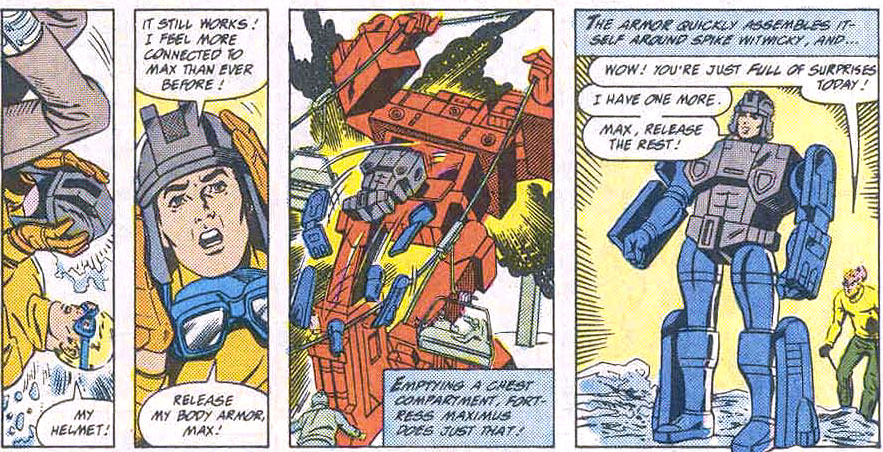 My Thoughts On This Issue
I feel like I just read a classic Transformers adventure. The down side to these kind of adventures is that they often feel forced and this one is no exception. I just felt like I had to hang on and go for the ride.
Two things stick out for me from the get go and I wish they where positive things. Spike's needing to get out of his father's house right away in the morning came off as rude to me. The matter was not helped by the fact that I didn't feel his father or brother put up much of a fight to stop him. On the other hand, one could read between the lines that Spike had just been through a war and letting him go do something "normal" might be thought of as a good thing by his family.
I also found myself wondering how Sparkplug got a new house? Where is that story? Honestly, this would most likely not have bugged me if IDW had not made such a big deal pointing out everything Sparkplug had gone through in the IDW Transformers Classics collection. He has every reason, in my mind, to be an overly protective father of his children right now, be we don't see that. There was a lot opportunity for Sparkplug's character development that was just not explored.
I know, I know. I am asking way to much form a kids comic.
So whats everyone's thoughts on this issue? I have really been enjoying reading your comments and responding to them. So please let me know your two cents.
No Transmission Letters This Issue
New Ads This Issue