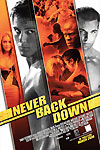 For weeks, I mean weeks, Zaine has been talking about "Never Back Down". Ever since he saw the movie trailer for it at the showing for CloverField he has gone on and on about how "Never Back Down" is going to be so shitty that it will be great. It will just be a great old school fight movie.
Well Friday night was opening night for the movie and he talked me into going. I really am glad I went. We went to the late 9:50pm showing. By the time we got to the theater we were both so excited for how bad we thought this movie was going to be. With Popcorn and soda in hand we found our seats and waited for the movie to start.
By the time the movie was over both Zaine and myself felt like our expectations where met. This movie was quite possibly the best, worst movie ever in the history of time. It was like Snakes On A Plane 2.0. This move was just so terrible that it was great! We laughed so hard at how bad it was. The bad acting. The over acting. The zippy one liners. The Music video style of directing. Just talking about it makes me want to see it again.
In fact, we might just go again tonight!