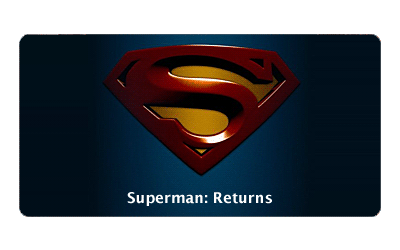 Superman. The name and the symbol instill images of truth and justice in all of us around the world. In a world where we have no control over politics or global changes, here is a man who is able to do things we all wish we could do. He is the good that is with in all human-beings. He gives us hope and a resin to cheer again. Super, is the only way to describe a man who is cable of doing things that we can only imagine.
Saturday Hannah and myself went to see Superman Returns at the movie theater. It was simply amazing. All the power and strength that you know Superman has you can really see truly for the first time in this movie. We had watched the first Superman movie the week before so we could be a little refreshed on the story line and the characters. It helped to see the first movie again but it's not a requirement at all. This was also the first movie i had ever seen where the audience cheer at through out the movie. i left feeling really good.
Their have been 4 Superman movies starting Christopher Reeve and to be honest, Superman 3 and 4 where bad. So bad in fact that the director of Superman Returns (Bryan Singer) is saying that his movie is to replace movies 3 and 4 and be the new 3. So when going to see this movie try to forget movies 3 and 4 if you have seen them.
So if you get a chance, check this movie out. let me know what you think.
RELATED LINKS
– Official Superman Movie Website
– Superman Movie Trailer
– Wikipedia Entery