Last week my company cell phone died. It was an old BlackBerry 7100g. That BlackBerry and I never got along and I did not keep that fact a secret. So when it finally passed away this last week my boss offered to get me the iPhone 3G as a replacement work cell phone. I thought I might document the process we went through to get the iPhone, as well as my experience with it.
August 21 2008 – After calling our local AT&T dealer we were told we would have to go down to the store and order the iPhone. At the time they did not have any in stock. So we drove down and waited in line for half and hour. In our Juneau store there where only three people helping customers. When we were up to speak with a sales rep, she had us picked out the model we wanted and pay for the iPhone right there. We were told that we had save the receipt to be able to clam the phone when it comes in. (To me that sounds like a bit of BS. I mean, you spend 200 bucks on a cell phone, they can look up that you bought it or not.)  The rep put the iPhone on order. We were told it would take 10 to 21 days to get in and that we would get updates via e-mail.
August 22 2008 – Got an automated e-mail from ATT Order Status.
Your iPhone 3G order has been shipped and is on its way to the AT&T store in which you placed the order… You will be notified via email when it arrives. You will then have seven (7) days to pick up your order or it will be canceled…
August 26 2008 – Got another automated e-mail from the local ATT store
Your iPhone 3G order is ready to be picked up at the AT&T store where you reserved it.  Please bring your reservation receipt and a valid ID when you pick-up your order…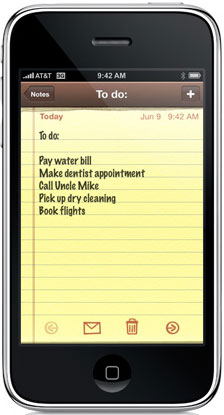 So less then ten days. That makes the whole experience a little more positive.  We went down to the local AT&T dealer and got my iPhone. They took it out of the box to activate it. They moved my old phone number over and that was that. The phone worked from that moment on.
At the end of the day when I got home, I plugged the phone into my computer. iTunes fired up and it started to download and install the new iPhone OS software update. I also downloaded one or two programs to try out. For me the whole process was shockingly easy, fast and painless.
I have been using the iPhone now for less then two day, but so far I am very happy with the experience. The brake out application for me on the iPhone has been "Notes". Notes lends it's self very well to anyone who is into the GTD system. In my first two days with the iPhone I have been using this program constantly.

I am a big fan of Things for the Mac. In the next few days I am sure I will pick up the Things program for the iPhone also.
I will do a follow up post in a few days. I would like to talk about things i don't like about the iPhone (if any come up) as well as how I have been using it.