I recently got a great e-mail from Anthony James, who stumbled upon my 'IKEA photo frames hack for comic books' post. In this e-mail he wrote:

I recently had a chance to meet Scott Snyder at the Midtown Comics in lower Manhattan for the launch of Batman 1. I bought a copy of Batman as well as Swamp Thing and had him sign both. I also bought a copy of American Vampire 1 signed by Scott on Ebay.
After getting home I realized I didn't want them all sitting in a long box in the closet so I looked up framing solutions online. They had to look nice in order to get my girlfriend to approve hanging them in the hallway, so at first all I searched was Amazon. After giving up because I needed 3 frames which would be very costly, I searched Google and came across your site.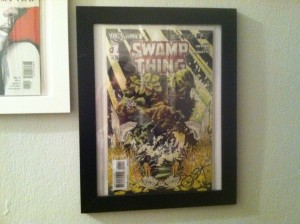 We went to Ikea in Brooklyn (just a short 15 minute drive so I can do this all the time!) and I picked up the frames. One thing your site doesn't mention is that the store has different colors so I went with a white frame for American Vampire as it's primarily a white cover. They have other colors as well but the black was the best fit for Batman and Swamp Thing.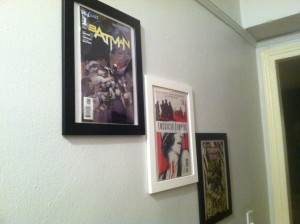 One thing I did different was I used white card stock behind the comics to make them almost appear like they are floating. I also used foam mounting tape on the edges of the frame which keeps the flush with the wall. The comics don't pinch at all in the frames which is great.
Again, thanks for the awesome tip. It saved a lot of money and left me with a nice exhibition in my hallway!
Thanks for writing and sharing your photos Anthony!