Today you can walk into Hallmark stores and preorder the new, Hasbro licensed Transformers Soundwave Ornament. That's just what I did at my local Bellingham, Washington Hallmark. It's on page 72 of the Hallmark Keepsake Dream book and the clerk at the counter was more than happy to take my preorder.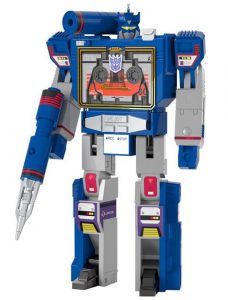 When the ornament arrives for pick up in July, I'll have to pay $15.95 USD cost and it will be mine. I think thats very reasonable for an ornament that looks this detailed. I've been excited for this Soundwave Ornament since it was announced at the New York City Comic Con in October of 2016.
The Hallmark, Keepsake Ornament of the Decepticon Soundwave has him posed with a laser cannon on his shoulder and concussion blaster in his hand. For a Christmas ornament, this robot looks to be a faithful reproduction of the 1980s toy in an ornament size of 2.9″ W x 4.1″ H x 2.4″ D. I'm looking forward to having this guy on my Christmas tree this coming winter holiday season with all the other Transformers Hallmark Keepsake Ornaments that have come out over the years.
The Decepticon Transformers Soundwave Ornament was created by Hallmark artist Orville Wilson. Mr. Wilson has a lot of experience creating nostalgic Christmas ornaments. He's credited with creating such Keepsake Ornaments as the Griswold family Truckster from the National Lampoon's Vacation movie, The Emerald City from The Wizard of OZ, and Ollivanders Wand Shop from the Harry Potter series.
I really like how Mr. Wilson's Soundwave looks. I love that you can tell that Laserbeak is the tape in the cassette deck. It's as if he designed the ornament to feel not only like the 1980s toy, but also the 1980s Soundwave box art. I guess you'll have to be the judge. Let me know what you think and will you be picking up this soundwave for the upcoming holiday season?