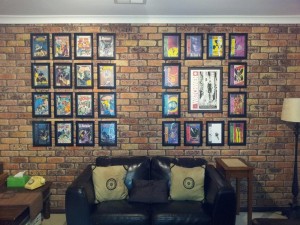 Who would have ever thought that anything I might write about on this blog would have any kind of effect on anyone? Let alone someone who lives halfway around the world from me. Well, my post called IKEA comic book photo frame hack seems to have had quite an impact on comic book fans from all over this planet. It is still the most popular post on my site.
Recently I was contacted by a gentleman named Paul from Western Australia. Paul wrote to me saying that he actually had some of these IKEA frames, but never thought to use them for comic books.
I've found you through a google search for comic book frames.  Liked what you had written and will be giving it a go. I've actually got a couple of these frames already. Dirt cheap and pretty good for the displaying our kid's certificates and awards in their bedrooms.  I'd never thought of using it for comic books!
Shortly after getting this E-mail from Paul, he went out and pick up several more IKEA photo frames and proceeded to use them to display his comic books.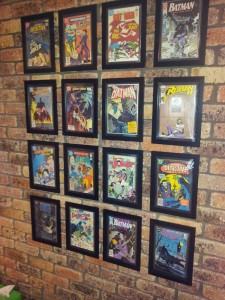 Pretty much followed your blog advice.  Only difference is that my Mylar bags are still on order, so these are their original polybags, I'll swap them over as soon as I get them.
The other difference is that the frames here cost $5.95 each!.  Unfortunately Perth WA is the world's most isolated capital city (the next nearest capital city to us is Singapore!) and we pay a premium for the privilege of living here.
As you can tell, I'm still a big Watchmen fan and had the full set sitting in my loft for over 20 years doing nothing but staying in mint condition.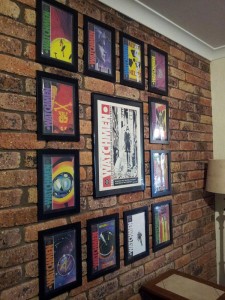 A copy of the Graphic Novel sits on my bookshelf that I don't mind thumbing through every now and again.
The poster in the middle is signed by Alan Moore & Dave Gibbons.  I love it.
I think Paul did quite an amazing job displaying his collection. Something like this has to be a great conversation starter for family and guests when they come by to visit. Nice job Paul!
If you have seen my IKEA comic book Photo Frame Hack post and it has inspired you to display your comics, drop me a line and tell me about it. I would love to hear from you.