There was something I wanted to know before I started buying the orginal 1980s Transformers comic books off of ebay.
How much were the books I wanted to buy actually worth?
I didn't want to over pay for the Transformers comic books. Well not much anyway. I am a die hard Transformers fan after all so, I could see myself paying a few bucks more than what the books were worth.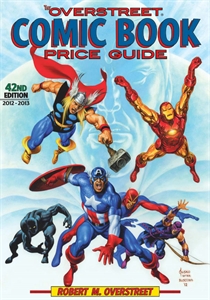 I learned that the standard de facto, go to guide for comic books pricing is a book called The Overstreet Comic Book Price Guide. You can also turn to the web and use a free service like Comic Book Realm to get an idea for the value of a comic book. For the purposes of trying to get a ballpark idea of what the original 1980s Marvel Transformer comic books were worth I used Comic Book Realm.
I learned something after looking over the value of the transformer comics on Comic Book Realm. Older issues of Transformers, particularly issues # 61 – 80 became increasingly more valuable. I did some digging and learned that as the comic became less popular, with few and few people buying it, Marvel Comics did not print off as many copies of these later issues. So their value is due, in part, by their scarcity.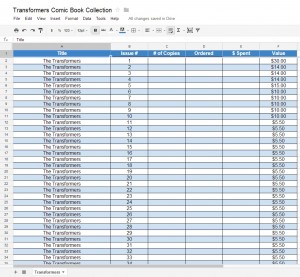 Using the pricing information I found, I created a spreadsheet in Google Docs (I guess its called Google Drive now, but I can't get past that so, I still call it Google Docs.) To help me track the comics I needed to order. The spreadsheet contained several columns of information such as:
Title
Issue #
# of Copies
Ordered
$ Spent
Value
As you can tell from the screenshot the "Title" column contains the title of the comic book. The "Issue #" contains the issue number of the comic. The "# of Copies" column is used to indicate how many copies of a particular comic book I have. (I started tracking the # of Copies because I was ordering patches of comics and I was ending up with some duplicates.) The "Ordered" column I used by just inserting an "X" to know if I had ordered a particular book already so I could try and avoid accidentally ordering two of the same book. The "$ Spent" column was to track how much money I spent ordering each book. Finally, the "Value" column was used to show me how much the comic was actually worth and to compare that to how much I was spending. Both the "$ Spent" and "Value Columns are set up so that they do the math for you and give you totals at the bottom of the spreadsheet.
Please feel free to download the XLS or the Open Document versions of this spreadsheet and use it as your own template or guide to collecting your own set of Transformers comics. I left the "Value" column filled in to help you save time. However, if you are going to use this spreadsheet to help you collect Transformers comics i recommend you going out and use Comic Book Realm or the Overstreet Comic Book Price Guide and make sure those numbers are updated.