My seventh response to the 100 letters I mailed out was not from Mark Salom, but from his sister-in-law, Fran Carpentier-Salom. Mark's letter appeared in issue 7, entitled: Warrior School!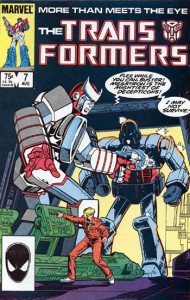 "I am thrilled to tell you how happy I was to receive your letter for my dear brother-in-law (and Transformers fan) Mark Salom." Fran wrote. "In fact, in Feb. 2012, Mark sustained a catastrophic fall in his home which rendered him a quadriplegic. His brother (my husband) and I had Mark treated at the renowned Kessler Institute, which is where the late actor Christopher Reeves sought treatment, but there was little that could be done for Mark. Thus, in May 2012, Mark moved full-time into a nursing home in Brooklyn. Rest assured, that he is as comfortable and, despite his situation, as happy as it is possible to be."
As trilled as I was to get another response to the 100 letters I sent out, this one felt like a gut check. In the last few years I've gotten to be apart of the Transformers fandom through this blog and the TransMissions Podcast. Hearing Mark's story and how he has been affected touched me more than any other response I've gotten thus far.
Mark is a Transformers fan. He's one of us. He had a really shitty thing happen to him. I wish nothing be the best for him.
If I where a better writer, I could come up with a more eloquent way to introduce Mark's original letter that was published in the 80s Marvel comic.
Dear Editor and Assistant Editor,
I am enjoying these new comic characters the TRANSFORMERS both in comic form and in animated cartoon (Channel 11-WPIX, Sundays at 10). It has come to my attention that between the comic and the animated cartoon there are (more or less) 11 different DECEPTICONS, 19 different AUTOBOTS and the 5 different DINOBOTS.
I would like in the future issues of the TRANSFORMERS (or in a special TRANSFORMERS Yearbook, like you did for G.I. JOE recently), a special reference section which has pictures and a brief information printout on al the above mentioned DECEPTICONS, AUTOBOTS, and DINOBOTS, and those robots you will yet bring to life, if any. Please follow up my thoughts when you get the series going again early in 1985.
Please try to keep the TRANSFORMERS animated cartoon going because it is really very good. Both children and adults can enjoy this show. – Mark Salom, Brooklyn, NY
Now 30 some odd years later and with the help of Fran and Mark's trusty aide, Pauline,  Mark answers my questions.
How did you discover Transformers?
I discovered them in the early 80s. I discovered the comic series. also the movies, and the voice overs!!!
Where did I get my Transformers comics from?
I used to buy my Transformer comics in Manhattan—what most people call New York City. I live in Brooklyn, which is a borough of NYC, the same way that the Bronx and Queens and Staten Island are. The five boroughs, get it? On Saturdays, after synagogue services, I would take the subway from my home in Sheepshead Bay—the section of Brooklyn shown in the recent Bill Murray film Saint Vincent—into Manhattan to a special comic book store in midtown. That's the good thing about Manhattan. It has something for everyone's taste. Going to the comics store was a highpoint of my week. I actually have a big collection of old comics."
Who are you today?
I am not sure how to answer this!
Are you still a Transformers fan?
I am still a big fan! But I don't get much access to comic book stores and my cable tv service doesn't seem to run the movies.
Many, many thanks go out to Mark, Fran and Pauline for their time and help. I wish the very best to all of them.