When I used to live in Anacortes, just about every night at 11:30pm I would head over to my friend Adam's house to watch Futurama. He and I, along with some friends would gather together and spend a few minutes talking about the day. How Adman's shop was doing. How Chode's record label and shows where coming along. How work and driving to Oak Harbor everyday was for myself. Then Futurama would come on and we would all get quite and watch it, taking brakes only during the t.v. commercials to talk. It was just a good fun get together that ended each of my days on a high note.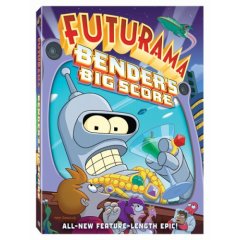 Last month the first new Futurama in two years was released (Futurama: Bender's Big Score) as a direct to DVD movie. I picked it up when it first came out, but only recently got to watch it because the first copy of the disk I got was a miss print or press. (Not sure what you call it when the disk quits playing halfway through.) In any case, I took the disk back to the store and they gladly exchanged the faulty disk for a new one.
Now, the movie was great! I didn't feel like any of the writing had changed over time. It really feels like everyone involved in the show the first time around got back together to make this movie and did so with out missing a beat. The movie retains the original comedy style that made Futurama so much fun to watch.
Anyone new to Futurama can pick up this DVD and watch it enjoy it. Anyone who has seen the older episodes will enjoy this movie a little bit more because of all the time traveling that is done in and references to older episodes.
If your a fan of Futurama this is a must have DVD. If your new to Futurama, this is as good of a starting point as any.