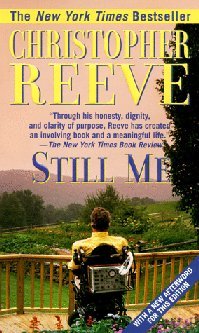 Put very simply, "Still Me" is a book written by Christopher Reeve where he writes about his experiences as an actor and about his horseback riding accident which produced his paraplegia and its effects on his life.
I am a fan of Christopher Reeve and what happened to him was just awful. It's quite interesting to read how he deals with his life after the accident and what his life was like before his horseback riding accident and after.
The book starts out well and good. Bouncing between happier times and what his life was like after the accident. Before you know it he is describing in great detail what happened to him and his horse. The beginning of the book reads a lot like a man who has been though more therapy then any normal person could realistically afford. Halfway through though, you start to really get a sense of who Christopher Reeve was. Almost like halfway through the book he started speaking his mind and was not so influenced by his therapy. The book is also filled with hope that one day thanks to all his hard work and the work of medical scientists a cure for his paralysis will be found within his life time.
Christopher spend a lot of time in this book talking about how he started out in theater. Working as a stage hand, learning as much about the trade as he cold. Eventually Christopher Reeve made his way as an actor. It's been a real eye opener for me learning about all that goes into a play production. Having close friends heavley involved with the theather I never really thought about all that is needed to put on a play in a theather. But now I feel I have a much better understanding.
My favorite Christopher Reeve movie is "Somewhere in Time", followed by "Superman". Both of which are very much worth seeing if you have not.
I remember the day Christopher Reeve passed away.  October 10, 2004. It just seemed so gut wrenching that such a good man, such a positive man, with all the hope he gave people left us. I remember that date well.  I made a little memorial for him on my website quoting the final pages of Superman Comic issu #75, The Death of Superman.
Like weary boxers who have gone the distance, the combatants collide in one last explosive effort.

In the years to come a few witnesses will tell of the power of these final punches… That they could literally feel the shock-waves.

Others will remember the enormous crater that resulted from the sheer force of the blows.

But most will remember this sad day, as the day the proudest, most noble man they ever knew finally fell.

For those who loved him, one would call him husband, one who would be his pal, or those who would call him son, this is the darkest day they could ever imagine.

They raised him to be a hero… To know the value of sacrifice.

To know the value of life.

And for those who served with Superman in the protection of all life, comes the shock of failure.

The weight of being too late to help.

But it will.

For a city to live a man had given his all and more.

But it is to late.

For this is a day, that a Superman Died.
I really enjoyed reading this book. It was very difficult to put down once I opened it. I highly recommend it if you where a fan of Christopher Reeve or a fan of theater.