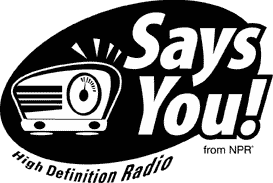 A couple of months ago Hannah and I heard about the radio show Says You coming to perform at Centennial Hall in Juneau on July 3rd, 2010. Says You is a comedy show played on NPR radio that we often listen to. We could not help but think that this would be a fun thing to attend before heading downtown to watch the fire works. So before we knew it we were buying tickets to the event from a local vendor.
When July 3rd got here the two of us headed down town towards Centennial hall about 15 minutes before the show was to start. We parked near by and walked right in the building and found our seats pretty quickly.
Because Says You is a radio show there was nothing fancy in the way of a stage or seating. Chairs filled the main hall with a small rectangular stage up front to seat 8 people. Six of which where for the contestants and two where for the score keepers. A podium was of to one side of the stage for the host of Says You, Richard Sher.
The panel was composed of all local people from Juneau. Laury Scandling, Ben Brown, Ron Clarke, Jesse Kiehl, Kathie Wasserman and Larry Persily.
Hannah and I got to see two shows that were taped for radio. The shows where very funny and everyone had a great time. They had a lot of local humor and national humor that I think someone who is not from here listening to the show would still laugh at. The shows they taped that night will be released on September but it's up to local NPR station to decide whether they will be picked up and broadcast or not. The shows should be available for download even if they are not played on the radio.
Our local paper also did a write up on the show.