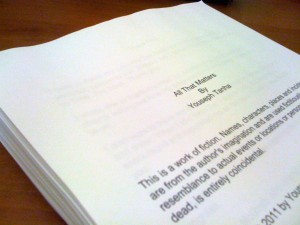 I am so excited to introduce a project I have been working on since October of 2010.
'All That Matters' is a book I have written, a novella, about Ethan Wright who is just like any other high school kid. But one day he is lucky enough to meet the girl of his dreams. Throughout the course of high school he learns to cope with incredibly difficult odds to discover all that matters.
My desire to write a book came along as a result of having so much fun writing for my own blog and for a role playing game website called 'Stargazers World'. I wanted try and put my creative writing energy into a book. The result is novella titled 'All That Matters'.
Currently 'All That Matters' is in the very final stages of editing and should be available on Amazon.com in the next few weeks and available on the Barnes and Noble nook shortly thereafter. I am really looking forward to hearing what people have to say about my first attempt at writing a book.