I was recently contacted by Adam Darvish who e-mailed me to share his story and framed comics. Adam has come up with what I think is a great solution to hanging framed comic books evenly. Check out his story below!
While living in Boston for dental school my collecting addition spread to comic books, more specifically the Avengers vs X men 12 run series. I had always been a fan of X men from the 90's animated series and the fact they were pitted against the Avengers had me instantly hooked.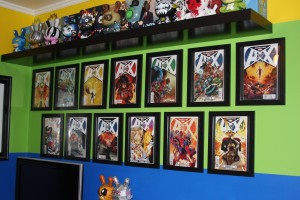 I never really was a big collector of comic books, I mean I had a few of the first early Spawn and a few random Batman comics but I never really got into comics. I grew up more playing with Ninja Turtles and the NES. That all changed when I was home in Worcester, Ma visiting my girlfriend Val. We went to a local pop culture emporium, That's Entertainment, which was known for selling a little of everything. It was a place I frequented in college for NES games and Magic Cards. While browsing I happened across the regular cover for Avengers vs X men issue one and decided it would be a good read while taking the train back to school. On the way out I happened to see in the case they had a variant edition of issue #1 with Capt.America fighting Cyclops on the cover and I had to buy it. I just loved the fact it had two iconic marvel heroes fighting on the cover and it was beautifully illustrated. At this point I figured I'd read the regular copy and keep the variant but I wanted to be able to display it. After getting the first issue I ended up reserving a box and every few weeks when I as able to come home I would go in to That's E and grab the next issue. This continued from April 2012 until October 2012. During that time I was looking at different hobby shops and craft stores for comic frames and I realized hanging all my comics was going to be pretty expensive. I decided to search the web for what other collector managed to do and that's when I came across the Ikea frame hack.
Initially I was keeping my comics at my parents house and had them on display in my room. I didn't want to put nails in the walls so instead of using the picture hooks I put eyelets into the back of the frames, strung them with picture wire and hung them on 3M picture hangers.
After graduating this past summer and moving back to Worcester, I found a more permanent home for my comics. I had issue hanging them evenly with the picture wire after the move since it seemed each frame had different wire tension so I am currently using the 3m Velcro hanging strips and have had great results. I did keep the comics in their sleeves on boards which causes a little glare but I figured it would preserve the comics better.
I just wanted to say thank you to Youseph for his tutorial and share my collection. Not only was it easy to do but they look great. I have been meaning to send pictures sooner but I was waiting until the series had finished. Awesome Hack, Thank you greatly
Adam Darvish
https://www.facebook.com/AdamDarvish